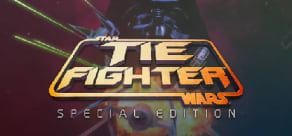 Star Wars: TIE Fighter Special Edition
Available Countries
Argentina
Bolivia
Brazil
Chile
Colombia
Costa Rica
Dominican Republic
Ecuador
El Salvador
Guatemala
Haiti
Honduras
Mexico
Panama
Paraguay
Peru
Puerto Rico
Uruguay
Venezuela
About the game
Become an Imperial Navy recruit under Darth Vader and pilot space vehicles that will take your breath away.

In the wake of the Battle of Hoth, through their betrayal on Yavin, the alliance of rebels and other criminals threatened the very foundation of the peaceful Empire. The Imperial Navy is called upon to root out the latest rebellion and restore law and order. As an Imperial Navy starfighter pilot, you will protect lives in danger across the galaxy. Join the Emperor's cause to put down the rebel uprising as the Empire strikes back!
Highlights
Includes STAR WARS™: TIE Fighter and STAR WARS™: TIE Fighter - Defender of the Empire, both 1994 (DOS) and 1998 (Windows), and STAR WARS™: TIE Fighter - Enemies of the Empire 1998 (Windows).
Let yourself be carried away by the story full of spectacular cinematic scenes!
Enter a 3D world full of Imperial and Rebel fighters!