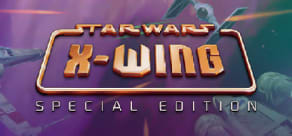 Star Wars: X-WING - Special Edition
Available Countries
Argentina
Bolivia
Brazil
Chile
Colombia
Costa Rica
Dominican Republic
Ecuador
El Salvador
Guatemala
Haiti
Honduras
Mexico
Panama
Paraguay
Peru
Puerto Rico
Uruguay
Venezuela
About the game
The Old Republic is gone. The Senate was abolished. The Jedi Knights were wiped out. Now the Emperor seeks to crush the last remaining opposition. Against the overwhelming might of the Empire stands a small but growing Rebel Alliance.
Scattered resistance groups are banding together and what is needed most now are starfighter pilots. Will you join their fight to end this tyranny and become a hero of the Rebellion?
Highlights
Includes STAR WARS™: X-Wing and all Tour of Duty: Imperial Pursuit and B-Wing expansions in 1993 (DOS) and 1998 (Windows)!
Fly through over 120 deep space and Death Star surface missions against the Empire!
Combat training simulates historical encounters with Imperial forces.