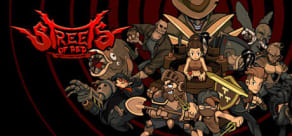 Streets of Red : Devil's Dare Deluxe
Available Countries
Antigua & Barbuda
Argentina
Bahamas
Barbados
Belize
Bermuda
Bolivia
Brazil
Chile
Colombia
Costa Rica
Cuba
Dominica
Dominican Republic
Ecuador
El Salvador
Falkland Islands
French Guiana
Grenada
Guatemala
Guyana
Haiti
Honduras
Jamaica
Mexico
Nicaragua
Panama
Paraguay
Peru
Puerto Rico
South Georgia & South Sandwich Islands
St. Kitts & Nevis
St. Lucia
St. Vincent & Grenadines
Suriname
Uruguay
Venezuela
About the game
In Streets of Red: Devil's Dare Deluxe, the only thing scarier than being eaten alive is running out of quarters! A permadeath multiplayer horror beat'em up that bestows players with the skills of retro gaming heroes in a fight against a legion of undead monstrosities.
Streets of Red was designed to be played over and over again, with each run offering up the potential for new content. Six unique playable characters and an ever-growing level selection work to keep the gameplay from getting old and rotten, while the easy to learn but hard to master combat system allows for plenty of depth.
With every kill, you earn cash that can be spent on upgrades, or to revive yourself when you die. You better learn how to make cash fast and spend it smart in Streets of Red because when you're dead, your save data dies with you. The chills, thrills, bills, and opportunity to learn new skills here won't stop until every street runs red with blood! Are you up for the challenge of an anti-lifetime?
Highlights
Video Games Versus Horror Movies!
4 Players Local Multiplayer Co-op!
6 playable characters, each with unique skill sets and upgrades!
Dynamic difficulty, based on the number of players!
Multiple routes that leads to multiple epic boss fights!
Death matters! Earn cash to revive, just like in the arcade!
Lots of exclamation marks!
System Requirements
Minimum
OS:

Windows 7 64-bit +

Storage:

750 MB

Processor:

1.6 GHz Dual Core

Memory:

2 GB

Graphics:

NVIDIA GeForce GTX 260 / ATI Radeon 4870 HD / Intel HD 3000,
Recommended
OS:

Windows 7 64-bit +

Storage:

1 GB

Processor:

2.2 GHz Dual Core

Memory:

4 GB

Graphics:

NVIDIA GeForce GTX 460 / AMD Radeon HD 6850
Minimum
OS:

Snow Leopard 10.6.8 or later

Storage:

750 MB

Processor:

1.6 GHz Dual Core

Memory:

2 GB

Graphics:

ATI Radeon HD 4850 / NVIDIA GeForce GT 120 / Intel HD 3000,
Recommended
OS:

Lion 10.7.X

Storage:

1 GB

Processor:

2.2 GHz Dual Core

Memory:

4 GB

Graphics:

NVIDIA GeForce GTX 460 / AMD Radeon HD 6850
Minimum
OS:

Ubuntu 12.04 LTS 32bit

Storage:

750 MB

Processor:

1.6 GHz Dual Core

Memory:

2 GB

Graphics:

ATI Radeon HD 4850 / NVIDIA GeForce GT 120 / Intel HD 3000,
Recommended
OS:

Ubuntu 12.04 LTS 32bit +

Storage:

1 GB

Processor:

2.2 GHz Dual Core

Memory:

4 GB

Graphics:

NVIDIA GeForce GTX 460 / AMD Radeon HD 6850