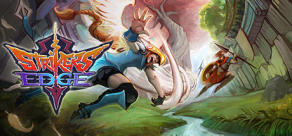 Strikers Edge
Available Countries
Antigua & Barbuda
Argentina
Bahamas
Barbados
Belize
Bermuda
Bolivia
Brazil
Chile
Colombia
Costa Rica
Cuba
Dominica
Dominican Republic
Ecuador
El Salvador
Falkland Islands
French Guiana
Grenada
Guatemala
Guyana
Haiti
Honduras
Jamaica
Mexico
Nicaragua
Panama
Paraguay
Peru
Puerto Rico
South Georgia & South Sandwich Islands
St. Kitts & Nevis
St. Lucia
St. Vincent & Grenadines
Suriname
Uruguay
Venezuela
About the game
Strikers Edge is a medieval dodgeball with weapons, ancient warriors and special powers! Challenge your opponents in online and local multiplayer modes, climb to the top and become the best attacker!
DODGEBRAWL: Edge strikers is a dodgebrawl game! Use whatever it takes to take your enemy off your side of the field!
GIT GUD: exercise your precision, anticipate the trajectories of your enemies and gain the advantage necessary to annihilate the opposition!
ONLINE and Local: Explore up to 8 unique attackers in 4 different arenas. Achieve greatness in 2v2 with a friend or become the best of them all in 1v1 mode!
PICK UP & MASTER: Each attacker's test has its own skill set, weapons, statistics and playsyles.
Highlights
Choose from 8 unique attackers, each with their skill set, game style and strategies.
Modes 1vs1 and 2vs2, use the strategy to obliterate opposition in online and local sessions.
4 different arenas with different layouts, obstacles and hazards to add to your strategy.
Easy to learn, difficult to master: choose your favorite attacker and get ready to discover all the hidden mechanics.
Strikers Edge puts the strategies in front and center. Predict the choices of your opponents and surprise them!
Twitch integration: streamers can interact with the audience when they play: viewers can become a member of the in-game crowd.
System Requirements
Minimum
OS:

Windows 7 / 8 / 10+

Storage:

1 GB

Processor:

Core 2 Duo or equivalent - 1.5 GHz +

Memory:

2 GB

Graphics:

NVidia Geforce FX, 6x00, 7x00, 8x00, 9x00 / GTX 2x0 / ATI Radeon 9x00, Xx00, X1x00, HD2x00 / HD3x00 [Intel HD/

DirectX:

9.0