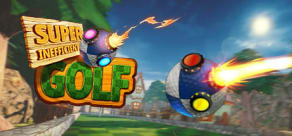 Super Inefficient Golf
Available Countries
Antigua & Barbuda
Argentina
Bahamas
Barbados
Belize
Bermuda
Bolivia
Brazil
Chile
Colombia
Costa Rica
Cuba
Dominica
Dominican Republic
Ecuador
El Salvador
Falkland Islands
French Guiana
Grenada
Guatemala
Guyana
Haiti
Honduras
Jamaica
Mexico
Nicaragua
Panama
Paraguay
Peru
Puerto Rico
South Georgia & South Sandwich Islands
St. Kitts & Nevis
St. Lucia
St. Vincent & Grenadines
Suriname
Uruguay
Venezuela
About the game
Why hit a ball with a metal stick, when you can stick MINES to your ball? Super Inefficient Golf improves upon the most inefficient game ever conceived, by making it even LESS efficient. Master the art of carefully placing your mines, detonating them with expert timing, and BOOM - Birdie!
The game is divided into two phases: setup your golf ball with mines, then blast it into space (or better, into the hole) by detonating them! You have full control on which mines explode and when, which gives you complete power over your rocket ball trajectory. Golf clubs will feel so basic after this!
Highlights
18 challenging holes - increasing difficulty, no tutorial. Are you tough enough?
Slowmo and acrobatic aerial turns - total control, albeit very inefficient!
Unbelievable views - enter a chill, relaxed environment in which your swearing will echo for miles around.
Online Leaderboards - Join the global challenge.
Explosions! - Exploding mines, exploding barrels, exploding explosions all around!
Game up! - Bernard Suits would be super happy of our lusory attitude.
System Requirements
Minimum
OS:

Windows 7

Storage:

1 GB

Processor:

i3 2.6Ghz

Memory:

4 GB

Graphics:

GTX 560

DirectX:

11
Recommended
OS:

Windows 10

Storage:

2 GB

Processor:

i5 2.6GHz

Memory:

8 GB

Graphics:

GTX 1050

DirectX:

11
Minimum
OS:

Macos High Sierra

Storage:

1 GB

Processor:

i3 2.6Ghz

Memory:

4 GB

Graphics:

RX540
Recommended
OS:

Macos High Sierra

Storage:

2 GB

Processor:

i5 2.6GHz

Memory:

8 GB

Graphics:

RX540
Minimum
OS:

Ubuntu 16.04

Storage:

1 GB

Processor:

i3 2.6Ghz

Memory:

4 GB

Graphics:

GTX 560
Recommended
OS:

Ubuntu 16.04

Storage:

2 GB

Processor:

i5 2.6GHz

Memory:

8 GB

Graphics:

GTX 1050