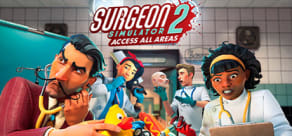 Surgeon Simulator 2
Available Countries
Antigua & Barbuda
Argentina
Bahamas
Barbados
Belize
Bermuda
Bolivia
Brazil
Chile
Colombia
Costa Rica
Cuba
Dominica
Dominican Republic
Ecuador
El Salvador
Falkland Islands
French Guiana
Grenada
Guatemala
Guyana
Haiti
Honduras
Jamaica
Mexico
Nicaragua
Panama
Paraguay
Peru
Puerto Rico
South Georgia & South Sandwich Islands
St. Kitts & Nevis
St. Lucia
St. Vincent & Grenadines
Suriname
Uruguay
Venezuela
About the game
Bob's life is in your hands! It's time to put on the uniform and grab the scalpel (or hacksaw or plunger) to enter the chaotic physics-based Operating Theatre of Bossa Labs with up to 4 players.
Take on the cream of the medical society in chaotic competitive challenges. In Surgeon Simulator 2, play frenzied cooperative matches splattered with blood or go solo in Campaign Mode, which tickles your ribs. Want to inject some creativity? Enter Creation Mode and build new stages on your own or team up to create something amazing with multiplayer creation tools. From head transplants and leg amputations to dance games and relay races, at Bossa Labs, you choose your own way to play!
Highlights
Wild Online Multiplayer
Dive into hair-raising competitive matches in the Competitive Mode - alone or with friends - in arcade-style stages and arenas against other online players. Face up to three of the world's best doctors in fast-paced challenges that will impress, surprise, and test your limits.
In Story Mode, you can play alone or with friends and team up to perform surgeries, crack open ribs, choose transplant organs, and make sure Bob doesn't bleed out... It's a flood of botched jobs that will test every element of your surgical skills, teamwork, and creativity. As the pressure mounts to keep the patient alive, you must work like a well-oiled machine, choosing to help or hinder efforts to save lives in this unique and chaotic group game.
The truth is out there
Uncover the truth behind the mysterious medical facilities in Campaign Mode with the storyline by award-winning writer Rhianna Pratchett, which has more twists than Bob's intestines. Go all-in as a lone surgeon or play with friends: the truth is out there!
Nothing is as easy and straightforward, not even head transplants - who would've thought? Bossa Labs' Medical Facilities are a character in this game as much as your fellow surgeons and they seem to be out to sabotage your surgical career completely with their labyrinthine corridors, torturous puzzles, and intricate traps.
Incredible Player-Created LevelsI
From space stations to discos, bowling alleys to amusement parks, your fellow surgeons have created some incredible and unlikely scenarios for surgical procedures - and they're all yours to play, with more levels and games being created all the time! Step in and let the adventure begin!
Creation Mode for one or more Players
And if player-created levels are sources of inspiration, why not unleash all your creative power with a super-intuitive and creative open environment in the Creation Mode that comes already included in Surgeon Simulator 2? We provide the tools used to create the game, with ready-to-use objects, textures, and building materials. As if that wasn't enough, you can create new levels and fun challenges with friends to play and share with the Surgeon Simulator 2 community.
System Requirements
Minimum
OS:

Windows 64 Bits

Storage:

10 GB

Processor:

Intel Core i3-3225 3.3 GHz

Memory:

4 GB

Graphics:

GeForce GTX 460

DirectX:

11

Network:

Banda Larga
Recommended
OS:

Windows 64 Bits

Storage:

10 GB

Processor:

Intel Core i5 - 4670

Memory:

8 GB

Graphics:

GeForce GTX 770

DirectX:

11

Network:

Banda Larga