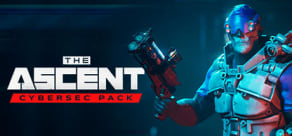 The Ascent - Cybersec Pack
Available Countries
Argentina
Bolivia
Brazil
Chile
Colombia
Ecuador
Falkland Islands
French Guiana
Guyana
Paraguay
Peru
Suriname
Uruguay
Venezuela
About the game
CyberSec Mega, the largest mil-tech manufacturer and main supplier of CorpSec, have released a brand-new set of weapons, tactical gear, armor and animated skins.
Disclaimer: This pack is not for the faint-hearted.
The CyberSec Pack includes everything you need to make a bang, including:
2 new weapons, the NEWT MGL Grenade Launcher and the RECOIL ballistic burst rifle 
as well as one tactical: the GR00P Cluster Grenade. Who said you can't wreak havoc in style?
Speaking of style, CyberSec Mega cares deeply for all their clients, that's why they've also produced four brand-new pieces of armor, protecting you from your explosive mayhem, while also making sure you look good doing it. 
The Boomblock Vest for Advanced Torso Protection
The Boomblock Shin Protector for Medium Leg Protection. 
You're probably thinking, but what about my head? CyberSec has you covered, with:
The Boomblock Scalp for Medium Head Protection
and the Boomblock H-HD for Advanced Head Protection.
And to look extra cool, four new animated weapon skins:
Blue Digital;
Hypno 01;
Hypno 02;
Red Digital
CyberSec Mega appreciates your business.
Highlights
2 NEW WEAPONS: 
NEWT MGL / Grenade Launcher: this MGL charmingly referred to as "The Floomp" launches explosive grenades that can bounce off walls. 
RECOIL / Ballistic burst rifle: Precision hurts. The Recoil rifle was a highly anticipated new addition to Whisper Cybernetics most recent line-up covered in the press. 
1 NEW TACTICAL:
 THE GR00P CLUSTER GRENADE / Lethal Grenade with explosive cluster damage: The GR00P comes packed with several smaller grenades that are launched and spread out after initial detonation. Less destructive per unit but more than make up for this with area damage. 
4 NEW PIECES OF ARMOR: 
The BOOMBLOCK SCALP / Medium head protection: The Boomblock Scalp intends to prevent concussions for an affordable price, without the extra bells and whistles. 
The BOOMBLOCK H-HD / Advanced Head Protection: The Heavy-Duty edition of the Boomblock headgear offers full protection, clean air, and clear vision in the midst of fire and wreckage. 
The BOOMBLOCK VEST / Advanced torso protection: the Boomblock Vest perfectly protects your torso and vitals while still allowing almost unhindered movement for your arms. 
The BOOMBLOCK SHIN PROTECTOR / Medium leg protection: The key to balance is a low centre of gravity, and a solid base. These hefty shin protectors will ensure you remain standing, while a thick fabric protects your body from heat.
4 NEW ANIMATED WEAPON SKINS:
BLUE DIGITAL
HYPNO 01
HYPNO 02
RED DIGITAL
System Requirements
Minimum
OS:

Windows 10

Storage:

35 GB

Processor:

Intel Core i5-4670K / AMD FX-8350

Memory:

8 GB

Graphics:

GeForce GTX 660 / Radeon R9 390X
Recommended
OS:

Windows 10

Storage:

35 GB

Processor:

Intel Core i7 +

Memory:

16 GB

Graphics:

RTX 2070