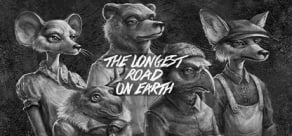 The Longest Road on Earth
Available Countries
Argentina
Bahamas
Belize
Bolivia
Brazil
Chile
Colombia
Costa Rica
Ecuador
El Salvador
French Guiana
Guatemala
Guyana
Honduras
Nicaragua
Panama
Paraguay
Peru
Suriname
Uruguay
Venezuela
About the game
Play in a song.

The Longest Road on Earth is a deeply personal and meditative narrative title. Play in the songs of four short stories featuring stripped down mechanics and no words. Each story is up for interpretation – what story lives inside you for each character and the world around them?

Be swept away by the haunting and sentimental lyrics of over twenty-four original, emotionally charged songs, sung by one of the developers.

Walking down The Longest Road on Earth will only take you two hours, and it's worth every step.
Highlights
THE SONGS OF LIFE - An intimate and original soundtrack, with themes and lyrics that seek the serenity and simplicity of life. Feelings, emotions, situations and perceptions that, however ordinary, define us as human beings, as well as our stories and the way we share our lives with each other.
EVOKE MEMORIES - Play through four chapters that capture the essence of everyday life, and experience moments that are both momentous and mundane, always accompanied by a nostalgic soundtrack. The lack of dialogue and text means you can share moments with the characters and create your own interpretations. Although the experience is not long (less than 3 hours), The Longest Road on Earth is full of special moments, such as blowing dandelions, collecting seashells, sledding in winter and cycling in summer.
THE SIMPLE, QUIET MOMENTS - A thoughtful and deeply personal title with streamlined mechanics. The absence of dialogue and text allows you to create the story yourself during your time with the four characters. In each of the small stories, players can dream accompanied by the poignant and touching lyrics of more than twenty originally written songs.
System Requirements
Minimum
OS:

Windows 7

Storage:

500 MB

Processor:

Intel Core i3

Memory:

4 GB RAM

Graphics:

Intel HD Graphics