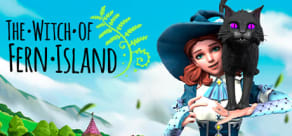 The Witch of Fern Island
Available Countries
Antigua & Barbuda
Argentina
Bahamas
Barbados
Belize
Bermuda
Bolivia
Brazil
Chile
Colombia
Costa Rica
Cuba
Dominica
Dominican Republic
Ecuador
El Salvador
Falkland Islands
French Guiana
Grenada
Guatemala
Guyana
Haiti
Honduras
Jamaica
Mexico
Nicaragua
Panama
Paraguay
Peru
Puerto Rico
South Georgia & South Sandwich Islands
St. Kitts & Nevis
St. Lucia
St. Vincent & Grenadines
Suriname
Uruguay
Venezuela
About the game
Welcome to the mysterious Isle of Fern! A middling island, home to three major magical cultures: Boran, Apatut, and Kuqkwa—including newcomer Abrill. After crashing onto the island during her travels to a wizarding academy, the young witch makes the most of the situation, eager to become a full-fledged Witch. Rather than wait for her arrival, the Witches Academy also decides to use this opportunity to see how young Abrill will demonstrate his knowledge of magic... As well as unlocking the secrets of a mysterious island.
However, be aware: to be a Fern Island Witch, it is not enough to pass the exams! You need to find your place in the world, make friends, and most importantly, find joy at every moment.
Highlights
MASTER WITCHCRAFT:
To train, it is necessary to exceed the expectations of the Bruxa Guardiã da Academia instead of spending hours in flat classrooms. A witch tells the message!
Plant (magical) herbs and plants, raise animals of the rare nature, and experience the charms of plants and animals.
Unwrap Abrill's unique personality or personalize the witch's cabin by choosing between style and practicality.
Of course, being a witch is very different from being a fazendeiro! Make magical potions in the cabin, craft arcane amulets, conjure flabby and presumptuous animals, and at times perform complex rituals to channel raw magic to control the weather.
Have we told you that you will have the power to control your cat?
EXPLORE THE ISLE:
Explore the island at your pace by the crystal balls of the Academy.
Learn generations of magic arts here, and the stories of the witches that accompany them.
Explore the island by foot, mounted on an elegant Tzoru or voe in a vessel — when to keep happy as April's progress, of course.
There is more story to be revealed! A Ilha Fern is full of magic há seculos.
Learn more about the past of the island and its rich collection of magical plants, animals, insects and beautiful landscapes.

FOR LASTING FRIENDSHIPS:
A witch is a specialist in magic and everything that is arcane. She is also part of the community!
Mergulhe in the culture and society of Boran, Apatut and Kuqkwa to discover their traditions and beliefs, participate in festivals and find true friends among dozens of people.
Discover the history and secrets of two her new friends, while Abrill strengthens her ties with the community.
Extend a loving hand with a witch's touch to help those who are in trouble and leave a good impression on each individual to win the title: A Fern's Witch!
System Requirements
Minimum
OS:

Windows 10/11

Storage:

20 GB

Processor:

i5 4460 / AMD FX 4350

Memory:

8 GB

Graphics:

NVIDIA GTX 970 / RX 470

DirectX:

12
Recommended
OS:

Windows 10/11

Storage:

20 GB

Processor:

i7 7700K / AMD Ryzen 5 1600

Memory:

16 GB

Graphics:

GTX 1660 Ti / RX 580

DirectX:

12