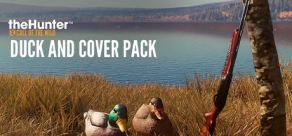 theHunter: Call of the Wild - Duck and Cover Pack
Available Countries
Antigua & Barbuda
Argentina
Bahamas
Barbados
Belize
Bermuda
Bolivia
Brazil
Chile
Colombia
Costa Rica
Cuba
Dominica
Dominican Republic
Ecuador
El Salvador
Falkland Islands
French Guiana
Grenada
Guatemala
Guyana
Haiti
Honduras
Jamaica
Mexico
Nicaragua
Panama
Paraguay
Peru
Puerto Rico
South Georgia & South Sandwich Islands
St. Kitts & Nevis
St. Lucia
St. Vincent & Grenadines
Suriname
Trinidad & Tobago
Uruguay
Venezuela
About the game
A bird has arrived in the Layton Lake District, and Doc's suppliers have stocked up on new equipment to better hunt these mallards.
Highlights
Nordin 20SA - The perfect companion for a hunter with a full day planned, the 20-caliber semi-automatic is a versatile weapon for demanding marksmen. The Nordin 20SA finely regulates gas pressure to ensure safety and fantastic handling. The semi-automatic action, with a capacity of 3 projectiles, guarantees several accurate shots, increasing the yield of any hunt. Whether these are medium or small game, game from upland regions or waterfowl.
Ammo - All previously released 20-gauge shotgun ammo is compatible with the Nordin 20SA, plus a new type of ammo designed specifically for hunting ducks (the 20-gauge Steel Birdshot; read more below).
20 caliber Steel Birdshot
Lead-free, non-toxic ammunition tested and compliant with all local and international hunting restrictions, yet still designed to be ideal for bird hunting.
Variations - The Nordin 20SA has three different color variations: Military, Clandestine and Craftsman.
Lures - These stunning, realistic and handcrafted mallard lures have two variants: Male and female. Giving the impression of being in a lush, fertile feeding zone, this full-body decoy tricks even the most cautious mallards into breaking out of formation and landing nearby.
Waterfowl Ambush -  The perfect ambush for hunting mallard ducks close to the shore of the lake. When used, it allows the hunter to blend in with their surroundings while still maintaining a high degree of mobility and freedom to aim.
System Requirements
Minimum
OS:

Windows 7 - 64-bit

Storage:

60 GB

Processor:

Intel Core i3

Memory:

4 GB RAM

Graphics:

NVIDIA GTX 660 / ATI HD7870 - 1GB VRAM
Recommended
OS:

Windows 10 - 64-Bit

Storage:

60 GB

Processor:

Intel Core i7

Memory:

8 GB RAM

Graphics:

NVIDIA GTX 760 / R9 270x - 4GB VRAM