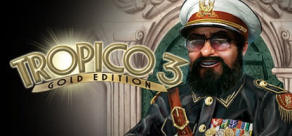 Tropico 3: Gold Edition
Available Countries
Antigua & Barbuda
Argentina
Bahamas
Barbados
Belize
Bermuda
Bolivia
Brazil
Chile
Colombia
Costa Rica
Cuba
Dominica
Dominican Republic
Ecuador
El Salvador
Falkland Islands
French Guiana
Grenada
Guatemala
Guyana
Haiti
Honduras
Jamaica
Mexico
Nicaragua
Panama
Paraguay
Peru
Puerto Rico
South Georgia & South Sandwich Islands
St. Kitts & Nevis
St. Lucia
St. Vincent & Grenadines
Suriname
Uruguay
Venezuela
About the game
Engage in a tropical power trip! Become the dictator of a remote island during the Cold War. Charm, persuade, intimidate, oppress, or cheat your people to stay in power! Are you a kind and generous leader? A corrupt and ruthless tyrant ruling with an iron fist? Turn your island into a tourist paradise or an industrial power. Make promises to the electorate or slander political adversaries to get the crucial votes for the upcoming elections. Send your avatar to congratulate the people, visit the island of another player, or just sun-bathe on the Caribbean beach. 
Play the Cold War superpowers against each other to your maximum advantage. Tropico 3 offers a tongue-in-cheek, light-hearted take on real world issues like third world politics, corruption and totalitarian regimes. 
Tropico 3: Absolute Power is the first official expansion pack to the critically acclaimed Tropico 3 and provides all-new options as ruler of a small Caribbean island nation. It adds a new campaign, new missions, new island types, unique buildings and new powers to maximize the length and success of your term in power.
Highlights
A campaign consisting of 15 missions 
Random map generator 
Timeline editor 
The Avatar — customizable and under the player's control 
Election speeches 
Simulation of the life, family, and political views of each Tropican 
Vehicles and Roads 
New buildings and new units 
Online Scoring 
Visits to islands controlled by other players 
New campaign featuring 10 all-new missions and islands
New buildings garbage dump, marina, grade school, etc.
New edicts declare an annual festival dedicated to yourself, print your own money or outlaw your most annoying political faction among others.
New traits and appearances to take El Presidente's power to the next level.
New huge landmarks huge decorations and structures as a reward for political and economical success to make your island unique.
New "loyalist" faction comprised of your die-hard supporters.
More radio announcements and a new radio station with witty comments on your actions in the game.
Bonus content
Tropico 3: Gold Edition includes:
Tropico 3, Standard Edition
Tropico 3: Absolute Power (DLC)
System Requirements
Minimum
OS:

Windows XP SP 2 / Vista / Windows 7

Storage:

5 GB

Processor:

2.4GHz Single Core

Memory:

1 GB

Graphics:

256 MB (Shader Model 3.0)

DirectX:

9.0c