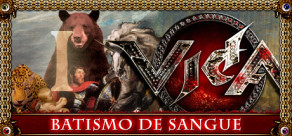 VIDA
Available Countries
Antigua & Barbuda
Argentina
Bahamas
Barbados
Belize
Bermuda
Bolivia
Brazil
Chile
Colombia
Costa Rica
Cuba
Dominica
Dominican Republic
Ecuador
El Salvador
Falkland Islands
French Guiana
Grenada
Guatemala
Guyana
Haiti
Honduras
Jamaica
Mexico
Nicaragua
Panama
Paraguay
Peru
Puerto Rico
South Georgia & South Sandwich Islands
St. Kitts & Nevis
St. Lucia
St. Vincent & Grenadines
Suriname
Trinidad & Tobago
Uruguay
Venezuela
About the game
VIDA, ERPG (Exploration Role Playing Game)
The vast majority of games can be seen as an RPG, however, each game wants to explore a certain experience, you will be in the role X, Y or Z, but always living a different story and in this VIDA was focused, it is not a infinity of fighting (that yes, he has too), but of a story being written, told and narrated as you play and progress in it.
Good stories can happen anywhere and in the midst of various open world games and the player's almost infinite freedom VIDA does not want to impress you by the "size" of the world, but by details scattered in specific "points" of him with scenarios created to hand, one by one, like the delicate mock-ups of quadratic floor where little heroes of lead had walked before with their robes dyed by acrylic enamel.
The ability to rotate the camera 360 degrees completes the frame as it allows you to find things behind rocks, fences, trees and other elements of the scenery. Wherever you point you will see the world in a way which added to the possibility of jumping on platforms adds literally a new dimension when it comes to exploring scenarios in isometric vision games.The interface, which looks like a frame - not by chance - reflects all aspects of the rulesystem that runs in the background, the GM Log (a small window in the lower left corner) constantly gives you information about what is happening in the background. game as if there really was an RPG master at the head of the table telling you how every action that is relevant has repercussions in the progression of your character.
The game introduces you gradually to a universe without good and badly defined, even when finding the gods (who give a "straw" in the first chapter) there is no way to say who is right or wrong and it is entirely at the discretion of players to make their own conclusions as to which side in the dispute to take. In an increasingly bilateral world of certainties VIDA tells a story full of questions and leads you to constantly explore, find new facts and question what you believe...
Maybe a certain game given the time in which we live.
Highlights
A new kind of story from which you participate from the first moment.
Trading system, aimed at reproducing real-life trading relationships more faithfully.
Click & Duele - A combat system that requires better management of armor, defense, attack and positioning, but which is guided completely by the mouse.
4 different races, sex choice (for appearance) with different backgrounds between them.
A bloodbath with permanent "gore" special effects. Hit the ground and exit the combats washed in the blood of defeated enemies!
3D graphics with 360 degree camera, but optimized for performance in medium specification systems.
Gameplay distributed in chapters where the player community is invited to interact with the developer deciding the course of history, so that with each new chapter, new weapons, cities, dungeons, opponents and NPCs expand the universe of the game.
Texts and narration in Portuguese, initial launch priority for Brazilian players.
System Requirements
Minimum
OS:

Windows 7-8-10 64Bits

Storage:

1.5GB

Processor:

Intel i5 / AMD

Memory:

4GB+

Graphics:

GTX750 / AMD. Notebook: GTX650m+