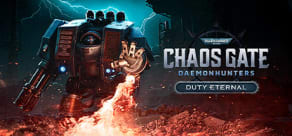 Warhammer 40,000: Chaos Gate – Daemonhunters - Duty Eternal
Available Countries
Antigua & Barbuda
Argentina
Bahamas
Barbados
Belize
Bermuda
Bolivia
Brazil
Chile
Colombia
Costa Rica
Cuba
Dominica
Dominican Republic
Ecuador
El Salvador
Falkland Islands
French Guiana
Grenada
Guatemala
Guyana
Haiti
Honduras
Jamaica
Mexico
Nicaragua
Panama
Paraguay
Peru
Puerto Rico
South Georgia & South Sandwich Islands
St. Kitts & Nevis
St. Lucia
St. Vincent & Grenadines
Suriname
Uruguay
Venezuela
About the game
Gain access to exciting new quests, an additional powerful class, and new ways to tell Nurgle's strengths in the first major DLC for this critically acclaimed turn-based strategic RPG. Wield the devastating firepower of the Venerable Dreadnought, boost your Attack Strength with the fearsome Tecnomarine, and earn great rewards by taking on new challenges on the Deathly Proclamation's bridge.
Highlights
EMBARK ON NEW QUESTS - The Proliferation has transformed. Overcome the Burst of Technophagy that appears by helping Adeptus Mechanicus stop this scourge. In them, you'll unlock powerful new tools, discover new ways to strategize, and fight terrifying new enemies as you progress through your stellar campaign.
COMMANDER THE DREADNUGHT* - Fight the new threat as the thunder Dreadnought, a legendary and venerable combat walker who can join as the fifth squad member in any Technophagy Surge mission. Customize him with a variety of awesome weapons and prepare him for war. Gray Fallen Knights can take the position of Dreadnought pilots to fight on behalf of the Emperor.
RUN LIKE THE TECNOMARINE - Summon the God Machine as a new Tecnomarine class and greatly expand your tactical repertoire. These fierce warriors are masters of machines and attract a wide variety of combat servers to aid their brethren in battle. Bombardments, for example, cause long-range explosions, while invaders break through armor with vicious melee attacks.
CARRY THE GLADIUS FRIGATE - Pursue Nurgle's forces through the Tyrtaeus Sector with the Gladius Frigate. This escort ship makes possible new excursions in distant places, commanded internally aboard the Death Proclamation, or that allows the Gray Knights to wage wars on several fronts. It's up to you to choose which mission to follow. Higher risks mean higher rewards.
EXPLORE NEW GAMEPLAY FEATURES... AND MORE! - Shake up each campaign with exciting new gameplay features. To fortify your powers with the new Archaeotech resource and improve your performance on the battlefield, send Technomadre Domina Lunete on an exclusive mission and pit them all in Technophage-themed Rising of Distortion events.
System Requirements
System requirements to be confirmed.