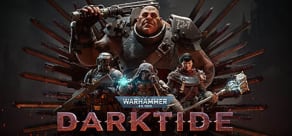 Warhammer 40,000: Darktide
Available Countries
Argentina
Brazil
Chile
Colombia
Costa Rica
Peru
About the game
Take back the city of Tertium from hordes of bloodthirsty enemies in this intense and brutal shooter. Warhammer 40,000: Darktide is the new co-op experience from the award-winning team behind the Vermintide series.
In the hive locks, the seeds of corruption threaten to become an overwhelming wave of darkness. A mysterious and sinister new force is trying to take control of the entire city. It's up to you and your allies in the Inquisition to eradicate the enemy before the city falls into chaos.
With the fall of Tertium came the time of the outlaws.
Highlights
Evolved Combat - Building on the best melee combat legacy of Vermintide 2, Warhammer 40,000: Darktide features the gunplay gameplay of WH40K. Master the balance between ranged and melee combat as you take on tons of enemies. Feel the impact of every slash and slash of your chainsword or the fiery shots of your arlaser.
Your character, your playstyle - Create your own unique character and customize their physical appearance, voice and background. Choose your class to determine the traits and skill sets it will use in battle. What will you be: a veteran combatant of the imperial army, a reactive outsider or a fanatical zealot? It's your choice.
Save Tertium from ruin - Enter the violent, dystopian world of Warhammer 40,000. From ebullient hydrogymnastics to the decaying water maintenance zone sustained by constant acid rain, the Tertium hive is a grueling and unforgiving place even at the best of times. Your role is to serve the zealous Inquisition and embark on quests to exterminate the threats that lurk within the hive city's confines—or die in the attempt.
Overcome unpredictable challenges - Adapt to the erratic whims of Chaos with Circumstances — mutants that add a spontaneous challenge to your mission. Your team must learn to adjust, adopt new tactics, and change their gear to meet these relentless challenges.
System Requirements
Minimum
OS:

Windows 10 (64 bit) / Windows 11 (64 bit)

Storage:

50 GB

Processor:

Intel i5-6600 (3.30GHz) OR AMD Ryzen 2400G (3.6 GHz)

Memory:

8 GB

Graphics:

NVIDIA GeForce GTX 970 OR AMD Radeon RX 570

DirectX:

12

Network:

broadband internet connection
Recommended
OS:

Windows 10 (64 bit) / Windows 11 (64 bit)

Storage:

50 GB

Processor:

Intel i7-9700K (3.70GHz) OR AMD Ryzen 5 3600 (4.2GHz)

Memory:

16 GB

Graphics:

NVIDIA GeForce RTX 3060 / RTX 2060 OR AMD Radeon RX 5700 XT

DirectX:

12

Network:

broadband internet connection