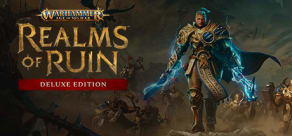 Warhammer Age of Sigmar: Realms of Ruin - Deluxe Edition
Available Countries
Antigua & Barbuda
Argentina
Bahamas
Barbados
Belize
Bermuda
Bolivia
Brazil
Chile
Colombia
Costa Rica
Cuba
Dominica
Dominican Republic
Ecuador
El Salvador
Falkland Islands
French Guiana
Grenada
Guatemala
Guyana
Haiti
Honduras
Jamaica
Mexico
Nicaragua
Panama
Paraguay
Peru
Puerto Rico
South Georgia & South Sandwich Islands
St. Kitts & Nevis
St. Lucia
St. Vincent & Grenadines
Suriname
Uruguay
Venezuela
About the game
Warhammer Age of Sigmar: Realms of Ruin - Deluxe Edition includes:
Deluxe Profile Customization Set
Alternate Hero Skins
THE GAME:
A real-time strategy game from Frontier set in the iconic Warhammer universe. Embody a warlord and command four distinct factions to conquer the savage Kingdom of Ghur in thought-provoking, tactical battles:
• Campaign Cinematic – Follow an intricate story with complex characters amid conflict in a savage kingdom, co-written by acclaimed Black Library author Gav Thorpe.
• Full multiplayer – Immerse yourself in cross-platform 1v1 and 2v2 multiplayer matches with a mix of human and AI teammates/opponents, and climb the 1v1 competitive ranks.
• Eternal Conquest – Fight through procedurally generated wilderness in a solo experience as you advance to face the ultimate enemy.
• Unlimited creativity – Create, share and compete on your own or other people's maps, colorize your armies and create beautiful dioramas to showcase your work.
Highlights
A HARSH SURVIVAL CINEMATOGRAPHIC CAMPAIGN:
Explore the nature of war and survival from the perspective of virtuous champions and villainous generals. Fight for survival and dominance in a campaign featuring four main factions, such as the Timeforge Eternals, Orruk Rapaiz-Crueus, Noturnalis, and more! Explore a cinematic storyline written in collaboration with acclaimed Black Library author Gavin Thorpe.

FULL MULTIPLAYER:
Challenge warlords around the world in cross-platform online multiplayer modes. Earn honor in casual matches or put your strategy to the test and crown yourself the true ruler of Ghur in competitive and ranked play. Face off 1v1 or 2v2 with up to three artificial intelligences, or have fun with a friend in cooperative mode.

PARTICIPATE IN ETERNAL CONQUEST:
A single-player challenge mode played in a procedurally generated campaign that pits players in a series of unpredictable maps and combat scenarios. Twists outside the rules that change the conditions of the conflict. Advance towards victory or face more battles to get the highest score, the choice is yours. Each Conquest campaign is different.

UNLIMITED CREATIVITY:
Become one with the Kingdoms and build combat maps with a revolutionary map editor, using the same tools used to produce the game's existing maps.
Make your mark on the path to conquest with Army Outfits, a system that allows you to customize your forces with colors based on Games Workshop's Citadel collection.
Create mesmerizing scenes to share with the community using the scene editor, an additional tool that allows you to arrange the characters and objectives of selected creative scenes that can be shared.
System Requirements
Minimum
OS:

Windows 10 64bit (22H2)

Storage:

27 GB

Processor:

Intel i5-6600 / AMD Ryzen 5 1400

Memory:

16 GB

Graphics:

NVIDIA GeForce GTX 1060 (6GB VRAM) / AMD Radeon RX 5600XT (6GB VRAM)

DirectX:

12
Recommended
OS:

Windows 10/11 64bit

Storage:

27 GB

Processor:

Intel i7-8700 / AMD Ryzen 5 2600X

Memory:

16 GB

Graphics:

NVIDIA GeForce RTX 2070 Super (8GB VRAM) / AMD Radeon RX 6700 XT (12GB VRAM)

DirectX:

12