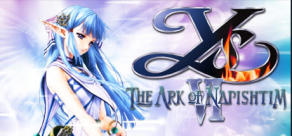 Ys VI: The Ark of Napishtim
Available Countries
Antigua & Barbuda
Argentina
Bahamas
Barbados
Belize
Bermuda
Bolivia
Brazil
Chile
Colombia
Costa Rica
Cuba
Dominica
Dominican Republic
Ecuador
El Salvador
Falkland Islands
French Guiana
Grenada
Guatemala
Guyana
Haiti
Honduras
Jamaica
Mexico
Nicaragua
Panama
Paraguay
Peru
Puerto Rico
South Georgia & South Sandwich Islands
St. Kitts & Nevis
St. Lucia
St. Vincent & Grenadines
Suriname
Uruguay
Venezuela
About the game
Red-haired adventurer extraordinaire Adol Christin has finally reunited with his best pal, Dogi, and is eager to set sail for new adventures in Afroca. It seems fate has other plans for him, however, as a pirate captain named Ladoc makes him an offer he simply can't refuse: a chance to explore a dangerous, uncharted archipelago in the Atlas Ocean that may hold treasures of heretofore unseen value.
Never ones to back away from a good mystery, Adol and Dogi both agree to join Ladoc on this expedition aboard his ship, the "Tres Mares" -- but no sooner does it weigh anchor than the Romuns, their sights set on the same curious islands of Canaan, attack the wayward pirates and ultimately knock Adol overboard, leaving him for dead.
Some time later, he washes ashore in Canaan itself, alive but weakened, rescued and resuscitated by two young girls named Isha and Olha who sport long ears and bushy tails. They are of the native "Rehda" tribe, and it seems Adol is not the first human to arrive here -- nor are humans particularly welcome...
Come experience the very first 3D Ys game as you've never experienced it before! Already the foundation upon which Ys: The Oath in Felghana and Ys Origin would later be built, this version of Ys VI: The Ark of Napishtim comes equipped with an original translation and brand new, entirely unique gameplay features such as the addition of a super hardcore "Catastrophe Mode" for fans of the later titles, full widescreen support, map warping, Steam achievements and leaderboards, and even a full digital art book packed with concept sketches, hi-res character portraits and original production PSDs.
See what you've been missing with this definitive version of the game that brought Ys into the modern era!
Highlights
Fast, real-time combat centered around elemental swords with unique magical abilities;
Enormous screen-filling bosses set to quintessentially Ys rock music composed by the legendary Falcom Sound Team jdk;
A deep and involving story that ties into Ys history and serves as a cornerstone of series lore;
Brand new "Catastrophe Mode" where healing items can't be purchased or stored, to create a gameplay experience more in line with later entries;
Adjustable high-resolution PC graphics and gamepad support;
Newly-added ability to warp among checkpoints;
Steam achievements and leaderboards.
System Requirements
Minimum
OS:

Windows XP

Storage:

1 GB

Processor:

Pentium III 800 MHz

Memory:

1 GB

Graphics:

32 MB VRAM, 3D / DirectX 9.0c

DirectX:

8.0
Recommended
OS:

Windows XP, Vista, 7

Storage:

2 GB

Processor:

Pentium III 1 GHz +

Memory:

1 GB

Graphics:

32 MB VRAM, 3D / DirectX 9.0c

DirectX:

9.0c