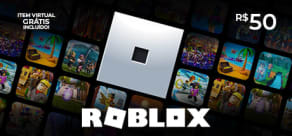 Digital Gift Card Roblox R$50
About the game
Take your Roblox experience to the next level. Use your Digital Gift Card Roblox R$50 to buy Robux (the virtual currency in Roblox) and get additional in-game content or upgrade your avatar with cool items. 

Buy the Roblox Digital Gift Card R$25 and receive 1001 Robux!

Roblox is a global platform that brings people together through fun. It allows anyone to imagine, create and have fun with friends as they explore millions of interactive 3D experiences produced by independent developers and creators.