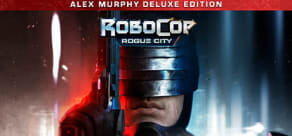 RoboCop: Rogue City Alex Murphy - Deluxe Edition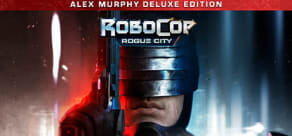 RoboCop: Rogue City Alex Murphy - Deluxe Edition
About the game
RoboCop: Rogue City Alex Murphy - Deluxe Edition includes:
RoboCop: Rogue City - Base game
Secondary Weapon "OGP Shotgun"
The prototype version of "AUTO-9" (Cosmetic)
The damaged armour from the 1st ROBOCOP movie (Cosmetic)
48 hours early unlock
The Digital Artbook

THE GAME:
Transform into the legendary half-man, half-machine cop and fight crime on the dangerous streets of Old Detroit.
Highlights
Do whatever it takes to uphold the law - Use your powerful Auto-9 or one of the other 20 available weapons to eliminate criminality in an explosive first-person journey. Your robotic strength and cybernetic skills, which can be improved throughout the adventure, make you the most efficient law enforcement agent.
Decide how to fulfill your prime directives - Explore open areas and complete objectives according to your own sense of justice. Finding evidence, carrying out interrogations and preserving public order are just some of your daily tasks. Take your job seriously, as your choices determine the fate of the citizens and the outcome of the mission.
An original story in the world of RoboCop - A series of crimes are plaguing the city of Detroit, and a new enemy is threatening the peace. The investigation takes you deep into a sinister project in an original story set between the RoboCop 2 and 3 films. Explore iconic locations and meet classic characters from the world of RoboCop. Peter Weller, the original actor who brought the character to life, reprises his role as the voice of the police officer from the future.
System Requirements
Minimum
OS:

Windows 10

Processor:

Intel Core i7-4790 / Ryzen 5 2600

Memory:

16 GB

Graphics:

NVIDIA GeForce GTX 1650/ 4 GB / AMD Radeon RX 480/ 4 GB
Recommended
OS:

Windows 10

Processor:

Intel Core i7-10700K / AMD Ryzen 7 3800XT

Memory:

16 GB

Graphics:

NVIDIA GeForce RTX 3070/ 8 GB / AMD Radeon RX 6800/ 16 GB