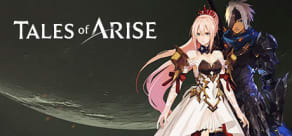 Tales of Arise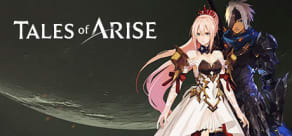 Tales of Arise
About the game
300 years of tyranny. A mysterious mask. Pain and lost memories. Wield the Flaming Sword and team up with an untouchable young woman to face the oppressors. Live a story of liberation with neat characters in the new generation graphics!

REVIEWS
"It's been a long time since I was as enchanted by a JRPG as I was with Tales of Arise, at every moment I wanted to get on with the story, but I also wanted to do the side quest that I wasn't level enough to do yet" - Geeks United

"Tales of Arise features various forms of interaction between characters, which allow you to explore more of their characteristics or the relationship between them. We have cinematic moments such as a magnificent anime episode, parallel conversations during combats, environment and camps, and moments recorded in the form of comics, with more information about the moment or curiosities" - Suco de Mangá

"The graphics built on Unreal Engine 4 are stunningly beautiful, balancing the use of cel-shading and three-dimensional shapes. Even better is the ability to choose between two graphics modes, one prioritizing frame rate and the other prioritizing graphics quality" - Gamerview
Highlights
A natural world all designed with the "Atmospheric Filter" - Discover a new graphic style inspired by anime and watercolor. Here, characters with impressive visuals travel through exquisite and delicate art settings.
Discover a world full of life - Explore the world of Dahna, with a mix of natural and unique environments that change over the course of the day. Face the rocky terrain, swim in the rivers, light fires, prepare meals, explore the cities, defeat the sovereign of another planet and free the people!
Stylish action and combat - With the new "Impulse Strikes" system, you can now chain powerful attack combos with your allies. Combine combos of Ars, Impulse Attacks and Impulse Strikes to finish off enemies!
Live the story of the tense division between the peoples of Rehna and Dahna - Alphen and Shionne are the protagonists who will decide the fate of these two worlds. They will have to overcome adversity and mature alongside their friends, each in their own way. The story also has scenes beautifully animated by ufotable, giving that "something more" all special to the journey.
System Requirements
Minimum
OS:

Windows 10 (64-bit Only)

Storage:

45 GB

Processor:

Intel Core i5-2300 / AMD Ryzen 3 1200

Memory:

8 GB

Graphics:

GeForce GTX 760 / Radeon HD 7950

Soundcard:

DirectX compatible soundcard or onboard chipset

DirectX:

11
Recommended
OS:

Windows 10 (64-bit Only)

Storage:

45 GB

Processor:

Intel Core i5-4590 / AMD FX-8350

Memory:

8 GB

Graphics:

GeForce GTX 970 / Radeon R9 390

Soundcard:

DirectX compatible soundcard or onboard chipset

DirectX:

11