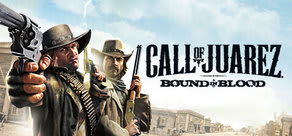 Call of Juarez 2: Bound in Blood
Available Countries
Antigua & Barbuda
Argentina
Bahamas
Barbados
Belize
Bermuda
Bolivia
Brazil
Chile
Colombia
Costa Rica
Cuba
Dominica
Dominican Republic
Ecuador
El Salvador
Falkland Islands
French Guiana
Grenada
Guatemala
Guyana
Haiti
Honduras
Jamaica
Mexico
Nicaragua
Panama
Paraguay
Peru
Puerto Rico
South Georgia & South Sandwich Islands
St. Kitts & Nevis
St. Lucia
St. Vincent & Grenadines
Suriname
Uruguay
Venezuela
About the game
Call of Juarez 2: Bound in Blood is a wild west style first person shooter set in the days of the American Civil War. In the story, the McCall brothers set off in search of a legendary treasure. For this, the player must face shootings using weapons such as pistols, rifles, rifles and machine guns. The graphics are very realistic, and players can choose from either sibling (Ray or Thomas), each with their own skills and weapons.
Highlights
Players can choose between Ray or Thomas, each with their own style (close or long range combat), specific skills (lasso, dynamite) and deadly weapon arsenal (double pistols, long range carbine). Take advantage of each of your strengths and take part in the fiercest duels.
Developed in conjunction with single player mode, multiplayer mode offers numerous modes and maps, resulting in several hours of western shootings.
System Requirements
Minimum
OS:

Windows XP/ Vista (apenas essas versões)

Storage:

4 GB

Processor:

3.2 GHz Intel® Pentium® 4 ou 2.66 GHz Pentium D/AMD® Athlon™ 64 3500+

Memory:

1GB (2 GB recomendados)

Graphics:

256 MB, Shader 3.0 (veja a lista de placas suportadas*)

DirectX:

9.0c ou 10.0