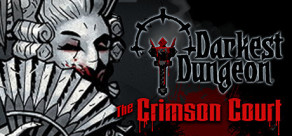 Darkest Dungeon: The Crimson Court
Available Countries
Antigua & Barbuda
Argentina
Bahamas
Barbados
Belize
Bermuda
Bolivia
Brazil
Chile
Colombia
Costa Rica
Cuba
Dominica
Dominican Republic
Ecuador
El Salvador
Falkland Islands
French Guiana
Grenada
Guatemala
Guyana
Haiti
Honduras
Jamaica
Mexico
Nicaragua
Panama
Paraguay
Peru
Puerto Rico
South Georgia & South Sandwich Islands
St. Kitts & Nevis
St. Lucia
St. Vincent & Grenadines
Suriname
Uruguay
Venezuela
About the game
"THE BLOOD...I MUST HAVE THE BLOOD!"
Darkest Dungeon: The Crimson Court is the first expansion for the award-winning grim and gothic RPG by Red Hook Studios. Crimson Court is a parallel campaign experienced alongside the main Darkest Dungeon content that will provide you with new challenges and variation at every difficulty level. The narrative grounding sheds some light on the Ancestor's early days, and will be presented in the same style of cut-scenes you've seen elsewhere in the game.
As the Crimson Curse spreads unrelentingly over the estate, parties will battle new enemies in familiar regions, as well as setting foot in a completely new sprawling environment: the Courtyard. There, amidst unique curios, traps and obstacles, a complete faction of new blood-crazed foes lie in wait, overseen by three distinct boss encounters. These slavering enemies and epic encounters will introduce new combat mechanics, testing the limits of your favorite strategies.
As the infestation grows and your roster begins to sicken, the Fanatic will emerge to roam the hallways, confusing friend and foe alike in his zealous quest to exterminate the Curse.
The odds are not completely stacked against you, however! A new playable hero class will be added alongside powerful new trinkets, town events, and a fresh way to expand and upgrade your Hamlet.
Highlights
A new hero class. "Awash in blood and delusion, they bear the burden of a thousand lifetimes."
A new wandering boss: The Fanatic
A new dungeon region: The Courtyard
A full faction of new deadly foes
4 new, unique Courtyard Bosses with some of the most complex and devious mechanics yet.
Massive, sprawling maps with locked doors, prisoner rooms, and progress saves
Districts: New prestige buildings that offer permanent, estate-wide bonuses
Lore-driven trinket sets for all heroes - with set bonuses!