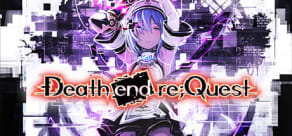 Death End re;Quest
Available Countries
Antigua & Barbuda
Argentina
Bahamas
Barbados
Belize
Bermuda
Bolivia
Brazil
Chile
Colombia
Costa Rica
Cuba
Dominica
Dominican Republic
Ecuador
El Salvador
Falkland Islands
French Guiana
Grenada
Guatemala
Guyana
Haiti
Honduras
Jamaica
Mexico
Nicaragua
Panama
Paraguay
Peru
Puerto Rico
South Georgia & South Sandwich Islands
St. Kitts & Nevis
St. Lucia
St. Vincent & Grenadines
Suriname
Uruguay
Venezuela
About the game
Arata Mizunashi, a video game developer, receives a notification of an email sent to him by Shina Ninomiya, a colleague who disappeared almost a year ago. Together, they worked to create World's Odyssey (W.O.D.), an immersive virtual reality with state-of-the-art, breathtaking technology. That is, until the sudden disappearance of Shina quickly interrupted production.
When Arata dives into the code lines of his abandoned project, he realizes that his game is now ravaged by an insect infestation, and that Shina is his only active participant - Shina Ninomiya was trapped inside "WOD" all the time... Now the only way out is to complete the game to unlock the perfect ending; a result with a success rate of 1%.
Unravel the conspiracy behind Death end re;Quest as it plunges into a story filled with characters that confuse perceptions between humanity and AI technology, putting in a movement an exciting narrative that questions the differences between the virtual world and ours.
Little do they know what horrors await them on both sides of the screen...
 
Highlights
Beyond Belief: Fact or Fiction:  jump between reality and in-game modes, as players will need to investigate in the real world view to solve the mysterious inner-workings of the World Odyssey, and switch to an in-game view mode to battle against glitched-out monsters. Choose options wisely, as your decision can change the game's ending!
Turn-Based RPGs Flipped Upside Down: in this turn-based command battle system, you can roam freely and duke it out with fearsome monsters. During battle, players can change the game's genre from a first-person shooter to even a fighting game!
You're Buggin' Out: while exploring, players will need to activate character-specific dungeon skills to access hard-to-reach areas and hidden treasures!
Follow the White Rabbit and Discover a Bug Infested World: in this hyper-realistic game world, players must help out Shina escape a game universe filled with infected bosses and mesmerizing environments!
System Requirements
Minimum
OS:

Windows 7 / 8 / 8.1 / 10 [x64]

Processor:

Intel i5 2.3GHz / AMD A9 2.9GH

Memory:

4 GB

Graphics:

VRAM 1 GB / DirectX 12.0
Recommended
OS:

Windows 7 / 8 / 8.1 / 10 [x64]

Processor:

Intel i5 3.3GHz / AMD FX-8350 4.0GHz

Memory:

8 GB

Graphics:

NVIDIA GeForce GTX 960 /ATI Mobility Radeon R9 290