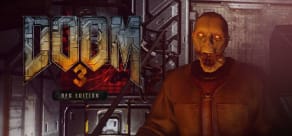 DOOM 3
Available Countries
Argentina
Bolivia
Brazil
Chile
Colombia
Costa Rica
Dominican Republic
Ecuador
El Salvador
Guatemala
Guyana
Haiti
Honduras
Mexico
Nicaragua
Panama
Paraguay
Peru
Puerto Rico
Suriname
Uruguay
About the game
DOOM 3 BFG Edition is the ultimate collection of games that defined the first person shooter including DOOM, DOOM II, DOOM 3, and DOOM 3: Resurrection of Evil, and The Lost Mission.
Developed by id Software, and originally released in 2004, DOOM 3 is a critically acclaimed, horror/action first-person shooter. It was remastered with the DOOM 3: BFG Edition in 2012. Now, get both versions of the base game and the expansions in one place.
Owners Receive:
The original DOOM 3 and Resurrection of Evil Expansion
The remastered DOOM 3: BFG Edition
Highlights
DOOM 3 - Original Version
Play the original, unaltered gameplay experience from 2004.
A massive demonic invasion has overwhelmed the Union Aerospace Corporation's (UAC) Mars Research Facility, leaving only chaos and horror in its wake. As one of only a few survivors, you must fight your way to hell and back against a horde of demons.
Resurrection of Evil Expansion – Original Version
Two years following the unexplained disaster on Mars, the UAC returns to the abandoned facility to investigate a mysterious beacon buried deep in the ruins of the ancient civilization.
Battle six new demons including the Hunters
Wield new weapons including the double-barreled shotgun
Acquire demonic powers
Control time to fight or evade traps
Harness gravity to manipulate your environment
DOOM 3: BFG Edition
Released in 2012, this remastered version of DOOM 3 includes:
Improved rendering and lighting
Checkpoint save system
Controller support
Armor-mounted flashlight allows you to see and shoot at the same time
Resurrection of Evil Expansion
The Lost Mission Expansion
An embedded version of DOOM (1993)
An embedded version of DOOM II
Stereoscopic 3D (on supported devices)
System Requirements
Minimum
OS:

Windows vista / Windows 7

Storage:

11 GB

Processor:

2.0 GHz dual core

Memory:

3 GB

Graphics:

NVIDIA GeForce 9800 GT / ATI Radeon HD 5750 [512 MB]
Recommended
OS:

Windows Vista-64 / Windows 7-64

Storage:

11 GB

Processor:

2.4 GHz dual core

Memory:

3 GB

Graphics:

NVIDIA GeForce GTX 260 / ATI Radeon HD 5850 [768 MB]