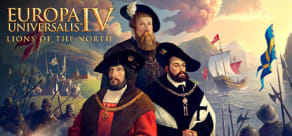 Europa Universalis IV: Lions of the North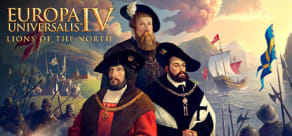 Europa Universalis IV: Lions of the North
About the game
Europa Universalis IV: Lions of the North adds new quest trees and historical options to a number of Baltic nations. Many of these options include new "branching missions" that offer more variety and encourage you to repeat them, exploring alternate stories through the decisions you make.
Highlights
Europa Universalis IV: Lions of the North includes new quest trees for: Denmark: The leader of the Kalmar Union aims for unity in the kingdom and can seek political and economic dominance of the Hanseatic League and North Sea trade zones. Sweden: A rising great power, Sweden can lay claim to a top position in Scandinavia, ready to step in and project power on the continent.
Norway: resists the influence of powerful partners and embarks on a new course as a maritime power in the North Sea or even the Atlantic Ocean.
Scandinavia: A united northern nation will have a wide range of new options to project its power as its cold lands are increasingly developed.
Teutonic Order: once a great crusader state, now fights for survival against Polish and Lithuanian pressure. Follow the path that will lead to Prussia or rediscover the fervent power of religious warfare.
Poland, Lithuania and the Polish-Lithuanian Commonwealth: unite the kingdoms and develop your vast lands while maintaining cohesion in the face of recalcitrant nobles.
Order of Livonia and Courland: Follow the Crusader's path to rival your heretic neighbor or secularize your state.
Riga: As a mercantile and religious city of the Hanseatic League, Riga manages to manipulate the politics of the trade alliance to instigate conflict and claim the spoils.
Danzig: creates a Prussian nation from this fundamental city-state.
Gotland:  chooses different paths as a monarchy, mercantile republic or pirate port, to dominate the Baltic.
Finland: a free Finland will be able to explore its destination separately from the Swedish domain.
This package also includes:
Unique government reforms: new government reform options for many nations in the region.
New unit types: recruits Swedish Carolinian infantry and Polish-Lithuanian winged hussars with certain conditions.
New state privileges for regional powers.
New Unit Models: 35 new unit skins for Scandinavian and Baltic nations.
New song: three new Scandinavian-themed songs and three new Baltic-themed songs.
System Requirements
Minimum
OS:

Windows 8.1 64 bit

Storage:

6 GB

Processor:

Intel Core™ i3-2105 / AMD® FX 4300

Memory:

4 GB RAM

Graphics:

Nvidia GeForceGTX 460 / AMD Radeo HD 5850

DirectX:

9
Recommended
OS:

Windows 10 Home 64 bit

Storage:

6 GB

Processor:

Intel Core i3 3240 / AMD FX 8120

Memory:

1 GB RAM

Graphics:

Nvidia GeForc GTX 560 Ti

DirectX:

9