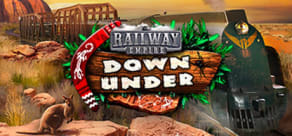 Railway Empire - Down Under
Available Countries
Argentina
Bolivia
Brazil
Chile
Colombia
Ecuador
Falkland Islands
French Guiana
Guyana
Paraguay
Peru
South Georgia & South Sandwich Islands
Suriname
Uruguay
Venezuela
About the game
During the first half of the 19th Century, the colonial territories of Australia are sparsely populated and consist primarily of coastal cities and a few smaller farming settlements in the remote outback. However, a series of events is set to spark an industrial revolution, one that will usher in an era of change for Australia and secure a lucrative future.
In Railway Empire "Down Under", it is up to you to tame the unforgiving outback and expand your railway network across its wild terrain and beyond. Your railway will ultimately be the key to laying the foundations for flourishing cities and to connecting remote mining settlements to coastal metropolises. Are you ready to face the sun-scorched landscape of Australia's Red Centre?
Highlights
New scenario: "Pioneering spirit" (1830-1930);
Map expansion: "Down Under" (available in Free Game and Sandbox modes);
3 new historical engines: Heisler (0-8-0), C30 (4-6-0) and Class S (4-6-2);
New tradeable goods (eg. seafood, Rail-O-Mite and canned beer) and 52 new cities to discover;
New music tracks, reworked city buildings and unique mission structures (eg. Sydney Harbour Bridge);
New Settlement feature unique to the "Down Under" map: on pre-determined locations, players can now establish new cities and this way arrange the economic system to their liking.
System Requirements
Minimum
OS:

Windows 7 SP1 / Windows 8.1 / Windows 10 (64bit versions)

Storage:

7 GB

Processor:

Intel Core i5 750 - 2.6 GHz / AMD Phenom II X4 - 3.2 GHz

Memory:

4 GB

Graphics:

nVidia GeForce GTX460 / AMD Radeon HD5870 (2048MB VRAM with Shader Model 5.0)

DirectX:

11
Recommended
OS:

Windows 7 SP1 / Windows 8.1 / Windows 10 (64bit versions)

Storage:

7 GB

Processor:

Intel Core i5 2400s - 2.5 GHz / AMD FX 4100 - 3.6

Memory:

8 GB

Graphics:

nVidia GeForce GTX 680 / AMD Radeon HD7970 (2048MB VRAM /Shader Model 5.0)

DirectX:

11
Minimum
OS:

Ubuntu 16.04.3 LTS + SteamOS

Storage:

7 GB

Processor:

Intel Core i5 750 - 2.6 GHz / AMD Phenom II X4 @ 3.2 GHz

Memory:

4 GB

Graphics:

nVidia GeForce GTX460 / AMD Radeon HD5870 (2048MB VRAM with Shader Model 5.0)
Recommended
OS:

Ubuntu 16.04.3 LTS + SteamOS

Storage:

7 GB

Processor:

Intel Core i5 2400s - 2.5 GHz or AMD FX 4100 - 3.6

Memory:

4 GB

Graphics:

nVidia GeForce GTX 680 or AMD Radeon HD7970 (2048MB VRAM / Shader Model 5.0)