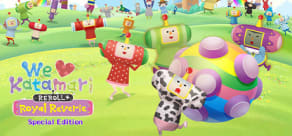 We Love Katamari REROLL+ Royal Reverie - Special Edition
Available Countries
Antigua & Barbuda
Argentina
Bahamas
Barbados
Belize
Bermuda
Bolivia
Brazil
Chile
Colombia
Costa Rica
Cuba
Dominica
Dominican Republic
Ecuador
El Salvador
Falkland Islands
French Guiana
Grenada
Guatemala
Guyana
Haiti
Honduras
Jamaica
Mexico
Nicaragua
Panama
Paraguay
Peru
Puerto Rico
South Georgia & South Sandwich Islands
St. Kitts & Nevis
St. Lucia
St. Vincent & Grenadines
Suriname
Uruguay
About the game
One day, the King of Cosmo destroyed all the stars of the universe by accident. He sent his son, or Prince, to Terra and ordered him to raise a large katamari.
O Prince Rolou or Katamari, who grew bigger and bigger and absorbed all the things of Earth. The katamari that grew fluctuating scintillatingly through space and trouxe back or forth like a star.
As the star restored, the number of fãs do Rei gradually grew all over the world. The King wanted to answer the wishes of successo feitos fãs fãs, and the Prince continued to roll the katamari to make everyone's dreams come true.
Highlights
¡Nos encanta Katamari Damacy es fresco! We Love Katamari Damacy, el segundo título de la serie Katamari lanzada en 2005, ha sido remasterizado. Los gráficos se han rediseñado por completo y la interfaz del juego se ha renovado para facilitar el juego.
¡También hay nuevas funciones adicionales disponibles, como Royal Reverie! En su juventud, el Rey recibió una estricta educación de su padre, el Gran Rey. ¡Se han agregado nuevos desafíos, donde puedes rodar como el Rey a una edad temprana! Es posible convertir los días de duro estudio y entrenamiento intenso en 5 nuevos desafíos. ¿Podrá el joven rey completar los desafíos? ¡Además, se ha agregado un modo selfie que permite que el Príncipe y sus primos tomen instantáneas rápidas mientras avanzan por los niveles!
¡Un juego simple pero muy profundo! Rueda katamari, absorbe objetos y aumenta katamari. Puede enrollar cualquier cosa, desde sujetapapeles y bocadillos caseros, cabinas telefónicas y edificios de la ciudad hasta criaturas vivas como personas y animales. Cuando se complete el katamari, se convertirá en una estrella que colorea el cielo nocturno. No puedes rodar nada más grande que el tamaño actual del katamari, por lo que la clave es pensar con anticipación sobre el orden de las cosas que rodarás a través del nivel.
Bonus content
A versão especial inclui:
• Jogo principal
• Roupa de Pequeno Príncipe
• Pack de música da série Katamari Damacy
• Roupa de Pequeno Rei

*Os conteúdos/especificações estão sujeitos a alteração sem aviso prévio.
*O jogo principal também é vendido em separado. Tem atenção para não fazeres uma compra duplicada.
System Requirements
Minimum
OS:

Windows 10 64-bit

Storage:

6 GB

Processor:

Intel Core i3-2125 or AMD A8-6600K

Memory:

4 GB

Graphics:

GeForce GTX 750 Ti or Radeon HD 6950 or Radeon Vega 11 or Intel Iris Xe

DirectX:

11
Recommended
OS:

Windows 10 64-bit

Storage:

6 GB

Processor:

Intel Core i5-2300 or AMD FX-8350

Memory:

8 GB

Graphics:

GeForce GTX 760 or Radeon R9 280

DirectX:

11