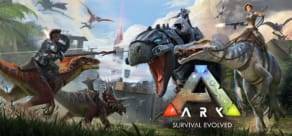 ARK: Survival Evolved
Available Countries
Afghanistan
Algeria
American Samoa
Angola
Anguilla
Antarctica
Aruba
Australia
Bahrain
Bangladesh
Benin
Bhutan
Botswana
Bouvet Island
British Indian Ocean Territory
British Virgin Islands
Brunei
Burkina Faso
Burundi
Cambodia
Cameroon
Canada
Cape Verde
Caribbean Netherlands
Cayman Islands
Central African Republic
Chad
China
Christmas Island
Cocos (Keeling) Islands
Comoros
Congo - Brazzaville
Congo - Kinshasa
Cook Islands
Côte d'Ivoire
Curaçao
Djibouti
Egypt
Equatorial Guinea
Eritrea
Ethiopia
Faroe Islands
Fiji
French Polynesia
French Southern Territories
Gabon
Gambia
Ghana
Gibraltar
Guadeloupe
Guam
Guernsey
Guinea
Guinea-Bissau
Heard & McDonald Islands
Hong Kong SAR China
India
Indonesia
Iran
Iraq
Isle of Man
Israel
Japan
Jersey
Jordan
Kazakhstan
Kenya
Kiribati
Kuwait
Kyrgyzstan
Laos
Lebanon
Lesotho
Liberia
Libya
Macau SAR China
Madagascar
Malawi
Malaysia
Maldives
Mali
Marshall Islands
Martinique
Mauritania
Mauritius
Mayotte
Micronesia
Mongolia
Montserrat
Morocco
Mozambique
Myanmar (Burma)
Namibia
Nauru
Nepal
New Caledonia
New Zealand
Niger
Nigeria
Niue
Norfolk Island
North Korea
Northern Mariana Islands
Oman
Pakistan
Palau
Palestinian Territories
Papua New Guinea
Philippines
Pitcairn Islands
Qatar
Réunion
Russia
Rwanda
Saint Martin
Samoa
São Tomé & Príncipe
Saudi Arabia
Senegal
Seychelles
Sierra Leone
Singapore
Solomon Islands
Somalia
South Africa
South Korea
South Sudan
Sri Lanka
St. Barthélemy
St. Helena
St. Martin
St. Pierre & Miquelon
Sudan
Svalbard & Jan Mayen
Swaziland
Syria
Taiwan
Tajikistan
Tanzania
Thailand
Timor-Leste
Togo
Tokelau
Tonga
Tunisia
Turkmenistan
Turks & Caicos Islands
Tuvalu
U.S. Outlying Islands
U.S. Virgin Islands
Uganda
United Arab Emirates
United States
Uzbekistan
Vanuatu
Vietnam
Wallis & Futuna
Western Sahara
Yemen
Zambia
Zimbabwe
About the game
As a naked man or woman, freezing and starving on the shores of a mysterious island called ARK, you must hunt, gather resources, craft items, farm, research technologies and build shelters to withstand the elements. Use your wits and resources to kill or tame and raise the leviathan dinosaurs and other primitive creatures that roam the wilds. Team up with or attack hundreds of other players to survive, dominate... and escape!
The following features are in-game on your first day of Early Access. We have many more aspects and refinements planned for the long-term development roadmap, and here's what you'll experience now in the ARK:
Highlights
TAME, TRAIN, BREED & RIDE DINOSAURS IN A LIVING ECOSYSTEM - Dinosaurs, Creatures & Breeding! -- over 50 in Early Access and over 100 planned for final release -- can be tamed using a capture-&-affinity challenge, involving weakening a feral creature to render it unconscious and then healing it with the proper food. Once tamed, you can issue commands to your Animal, which may follow you depending on how well you've tamed and trained it. Animals, which can continue to level up and consume food, can also possess Inventory and Equipment such as Armor, carry prey back to their housing depending on their strength, and larger animals can be ridden and controlled directly! Fly a Pterodactyl over snow-capped mountains, lead allies over enemy walls, dash through the jungle with Birds of Prey, ram through an enemy base with a giant Brontosaurus, or chase prey on the back of an angry Tyrannosaurus Rex! Participate in a dynamic ecosystem with its own hierarchy of predator & prey, where you are just one creature among many species fighting for dominance and survival. Animals can also be mated with the opposite sex, to breed generations successively using a system based on genetic traits that will be inherited. This process includes in both egg-hatching and mammalian gestation life cycles! Or more simply, breed & raise Dinosaur Babies!
FOOD, WATER, TEMPERATURE AND CLIMATE - You must eat and drink to survive, with different types of plants and meat having different nutritional properties, including human flesh. Ensuring a fresh water supply for your home and inventory is a pressing concern. All physical actions come at the cost of food and water, long journeys are fraught with the danger of livelihood! Inventory weighs you down and makes you move slower, and the day/night cycle along with randomly patterned weather adds another layer of challenge by altering the temperature of the environment, causing you to hunger or thirst more quickly. A campfire or shelter and a wide range of customizable clothing & armor help you protect yourself against locational hazards & extreme temperatures using the Dynamic Indoor & Outdoor Insulation Calculation System!
HARVEST, BUILD STRUCTURES, PAINT INTENSES - By cutting down trees from thick forests and mining metal and other precious resources, you can craft the parts to build massive multi-level structures made up of complex interlocking parts, including ramps, beams, pillars, windows, doors, gates, remote gates, trapdoors , water pipes, faucets, generators, wires and all kinds of electrical devices and stairs, among many other types. Structures have a weight system to collapse if the support support is destroyed, so reinforcing your buildings is important. All structures and items can be painted to customize the look of your home, as well as dynamically pixel-painted placement on signs, textual billboards, and other decorative objects. Shelters reduce weather extremes and provide security for you and your loved ones! Weapons, clothing, and armor gear can also be painted to express your own visual style.
PLANT, CULTIVATE AND GROW - Take seeds from the wild vegetation around you, plant them in plots that you build, then water and feed them with fertilizer (everyone poops after consuming calories, which can then be fertilized, and some fertilizers are better than What others). Tend to your crops and they will grow to produce delicious and rare berries, which can also be used to cook a multitude of recipes and make useful tonics! Explore to find the rarest of plant seeds that have the most powerful properties! Vegetarians and vegans can flourish, and it will be possible to dominate and conquer the Ark in a non-violent way!
INVOCATE THE ULTIMATE LIFE FORMS - By bringing enough rare items from sacrifices to special Summoning locations, you can have the attention of Ark Gods like mythical creatures, who will arrive for battle. These hulking monstrosities provide an end-game objective for the most experienced groups of players and their pet armies, and will drop extremely valuable progression items if defeated.
TRIBE SYSTEM - Create a tribe and add your friends, and all your pets can be commanded by the allied party, anyone in your tribe. Your tribe will also be able to respawn at any of your home spawn points. Promote tribe members to Admins to reduce management burden. Distribute key points and passwords to provide access to your shared village!
RPG STATISTICS - All items are crafted from Designs that have varying qualities and statistics and require corresponding resources. More remote and difficult locations on the other side of the island tend to have more resources, including the highest mountains, darkest caves and depths of the ocean! Your character Levels up by gaining experience through performance actions, Level up your pets and learn new "engrams" to be able to craft items from your memory without using Blueprints, even if you die! Customize your character's underlying physical appearance with hair, eye, and skin tones, along with an array of body proportion modifiers.
HARDCORE MECHANICS - Everything you create has durability and will wear out from prolonged use if not repaired, and when you exit the game your character remains dormant lingering in the world. Your inventory physically exists in chests or on your character in the world. Everything can be looted & stolen, so to keep it safe you must either upgrade your buildings, your staff, or have pets to guard your stash. Death is permanent, and you can even KO, capture, and force other players to use them for your own ends, such as extracting their blood for transfusions, harvesting their fecal matter to use as fertilizer, or using them as food for your animals. pet carnivores!
EXPLORE AND DISCOVER - The mysterious Island is a formidable and imposing environment, composed of many natural and man-made structures, above ground, underground and under water. Exploring its secrets fully, you will encounter the most exotic procedurally randomized creatures and rare technical drawings. Also to be found are the dynamically-updating notes for the game, written by previous human inhabitants of the island across the millennia, creatively detailing creatures and backstories of the ark and its creatures. Fully develop your in-game ARK-map through exploration, custom record landmarks on it, and create a compass or GPS coordinates to help explore with other players, whom you can communicate via text and voice chat. proximity, or long distance radio. Build and draw on in-game boards for other players to help or derail them... And of course... how do you finally challenge the creators and conquer the ARK? A definitive ending to the game is planned.
VAST PERSISTENT WORLD AND UNIVERSAL GOAL - On the 100+ servers, your character, everything you've built and your pets remain in the game even when you leave. You can even physically transport your character and items across the Ark's network by accessing obelisks and uploading (or downloading) Steam economy data! A galaxy of ARK's, each slightly different than the last, to make your mark and conquer, one at a time--Official ARK events will be revealed on the world map for a limited time sometimes in uniqueness with themed events with Matching items with limited time!
GREAT STEAM WORKSHOP MODIFICATIONS SUPPORT - You can play in local single-player and bring your character and items between unofficial hosted servers, and bring back to singleplayer from multiplayer. Mod the game, with full Steam Workshop support and custom Unreal Engine 4 editor. See how we built our ARK using our maps and live as an example. Host your own server and configure your ARK precisely to your liking. We want to see what you can create!
STATE-of-the-art, HIGH-QUALITY VISUALS - The hyper-real images on top of ARK and its creatures are brought to expressive life using a highly customized Unreal Engine 4 engine, with fully dynamic lighting and global lighting, weather systems (rain, fog, snow, etc.) & truth-to-life in volumetric cloud simulations, and the latest advanced rendering techniques in DirectX 11 and DirectX 12. Music composed by award-winning "Ori and the Blind Forest" composer Gareth Coker!
System Requirements
Minimum
OS:

Windows 7/8.1/10 (64-bit versions)

Storage:

60 GB

Processor:

Intel Core i5-2400/AMD FX-8320 or better

Memory:

8 GB

Graphics:

NVIDIA GTX 670 2GB/AMD Radeon HD 7870 2GB or better

DirectX:

10
Minimum
OS:

OSX 10.9 or Higher

Storage:

20000 MB

Processor:

2 GHz Equivalent CPU

Memory:

4000 MB

Graphics:

OpenGL 3 Compatible GPU with 1GB Video RAM