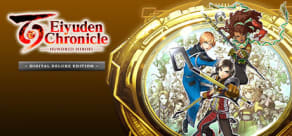 Eiyuden Chronicle: Hundred Heroes - Digital Deluxe Edition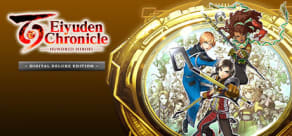 Eiyuden Chronicle: Hundred Heroes - Digital Deluxe Edition
Pre-order
Pre-order Eiyuden Chronicle: Hundred Heroes Digital Deluxe Edition and receive:
1 Early Bird Pack (1 Enhancement Rune and 1 Enhancement Accessory)
1 HQ Custom Object
48 hour early access
*Early Bird Pack and HQ Custom Item will be sold separately in the future.
About the game
Make the most of the adventure with the Digital Deluxe Edition, which includes the following content:
Full game Eiyuden Chronicle: Hundred Heroes
1 Early Bird Pack: (6 Healing Items, 2 Revive Items and 3 Evacuation Items)
1 Barracks Customization Object
Season Pass: (3 Wallpapers by Kawano, 2 HQ Paintings, DLC - Seign's Chapter, DLC - Marisa's Chapter and DLC - Markus' Chapter)
Digital art booklet
Digital soundtrack

Our story begins in a corner of Allraan, a varied mosaic of nations with diverse cultures and values. With the strength of the sword and through magical objects known as "rune lenses", the history of the territory was shaped by alliances and the aggressiveness of humans, beastmen, elves and desert people who live there. The Galdean Empire defeated other nations and discovered technology that amplifies the magic of rune lenses.
Now, the Empire is scouring the continent in search of an artifact that will expand its power even further.
It is on one of these expeditions that Seign Kesling, a young and talented Imperial officer, and Nowa, a boy from a distant village, meet and become friends.
However, destiny will soon drag them into war and force them to review everything they believe to be fair and true.
System Requirements
Minimum
OS:

Windows 7/ 8.1/ 10 x64

Storage:

22 GB

Processor:

AMD FX-4350 / Intel® Core™ i3-3210

Memory:

4 GB

Graphics:

AMD Radeon™ R7 260X (2GB VRAM) / NVIDIA® GeForce® GTX 750(2GB VRAM)
Recommended
OS:

Windows 7/ 8.1/ 10 x64

Storage:

22 GB

Processor:

AMD Ryzen™ 5 1700 / Intel® Core™ i7-4770S

Memory:

6 GB

Graphics:

Radeon™ RX 470(4GB VRAM) / NVIDIA® GeForce® GTX 1060 6 GB VRAM