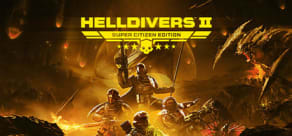 HELLDIVERS 2 Super Citizen Edition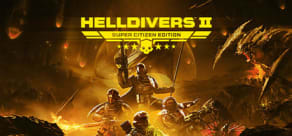 HELLDIVERS 2 Super Citizen Edition
Pre-order
Pre-order and get 3 sets of armor.
TR-7 Ambassador of the Brand - Promotional armor made by SUMY Corp. as part of a highly successful marketing campaign for frozen yogurt.
TR-62 Knight - Crafted to deliver Justice to the darkest crevices of the galaxy.
TR-9 Cavalier of Democracy - Bearers of this armor ride no equine mount, but are nonetheless borne to battle atop the trusty steed of Liberty.
About the game
HELLDIVERS 2 Super Citizen Edition includes:
"DP-53 Freedom Savior" armor set.
Cover "Will of the People".
Weapon "SMG MP-98 'Knight'".
Supercitizen Status.
Hero of Strategies ship game.
"Steel Veterans" premium war bonus.

THE GAME:
THE GALAXY'S LAST OFFENSIVE LINE
Enlist with the Helldivers and fight for Freedom in a hostile galaxy in this fierce, frantic and fast-paced third-person shooter.

URGENT BROADCAST – SUPER EARTH ARMED FORCES
Freedom. Peace. Democracy. Your Super Earth-born rights. The key pillars of our civilization. Of our very existence. But the war rages on. And everything is once again under threat. Join the greatest military force the galaxy has ever seen and make this a safe and free place to live.
Highlights
URGENT BROADCAST – SUPEREARTH ARMED FORCES – Freedom. Peace. Democracy. Your rights for being born on Superterra. The main pillars of our civilization. Of our existence. But war continues. And, once again, everything is at risk. Join the greatest military force the Galaxy has ever seen and guarantee the safety and peace of the place.
BECOME A LEGEND – You'll join a squad of up to four Helldivers and take on strategic missions.Take care of your allies — friendly fire is a sad fact of war, but it's impossible to win without working as a team.
APPARATUS - Cause a rain of Freedom, infiltrate enemy territory or gather all your courage and charge forward on the battlefield. It's up to you to decide how to spread Freedom. To do this, you will have access to a wide range of explosive weapons, protective armor and strategies capable of changing the tide of battle... The pride of the Helldiver arsenal.
REQUISITIONS - Superterra recognizes your efforts through valuable Requests. Use them to gain access to a variety of rewards beneficial to you, your team, your destroyer and the war effort as a whole.
THREATS – All planets are real death traps. It is this type of threat that we have to deal with. Each enemy has its own unpredictable characteristics, tactics and behavior, but they all fight impetuously, without fear or morality.
THE GALACTIC WAR – Capture enemy planets, defend against invasions, and complete missions to contribute to the effort. The outcome of the war depends on the actions of everyone involved. Either we all come together, or there will be no one left.
System Requirements
System requirements to be confirmed.