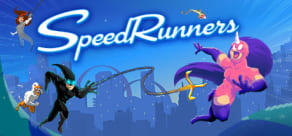 SpeedRunners
About the game
In a city filled with superheroes, getting to crimes becomes a competition on its own. Fortunately there are enough rockets, bombs, grappling hooks, spikes, and other goodies lying around - to make the competition fun and fast. Welcome to SpeedRunners.
SpeedRunners is a 4 player competitive platformer with grappling hooks, power-ups, and interactive environments. Run, jump, swing around, fire rockets, grapple onto people to knock them off screen.
Highlights
4 Player Competitive Platforming!
Keep up with the fastest player in-game, or fall offscreen and get eliminated!
Use weapons like missiles, mines and grappling hooks to screw over your friends, and make new enemies!
Local and online multiplayer! Can you have 2 players on a couch against 2 other players on the internet? Yes of course!
Bots enabled - play on your own with several AI opponents. Or put them into matches with other people!
A tutorial teaches you how to play.
Controller compatible (and recommended!).
A dozen expertly designed maps.
Unique game modifiers.
A character named Unic!
Full blown level editor with over 10k user created levels.
An exciting single player campaign.
Create your own custom in-game trails (visible when you hit super-speed).
System Requirements
Minimum
OS:

Windows XP +

Storage:

800 MB

Processor:

1Ghz +

Memory:

3 GB

Graphics:

Dedicated video card
Minimum
OS:

OSX El Capitain

Storage:

800 MB

Processor:

1Ghz +

Memory:

3 GB

Graphics:

Dedicated video card
Minimum
OS:

Latest Debian redistributable or SteamOS

Storage:

800 MB

Processor:

1Ghz +

Memory:

3 GB

Graphics:

Dedicated video card