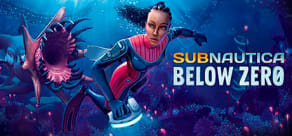 Subnautica: Below Zero
About the game
Below Zero is an underwater adventure game set in an alien ocean world. This is a new chapter in the Subnautica universe, developed by Unknown Worlds.
Highlights
Return to Planet 4546B - Dive into a new expedition in sub-zero temperatures in an arctic region of Planet 4546B. Arriving with little more than your wits and some survival gear, you set out to investigate what happened to your sister...
Discover the Truth - Alterra left in a hurry after a mysterious incident. Abandoned Research Stations are scattered across the region. What happened to the scientists who lived and worked here? Records, items and databases scattered throughout the wreckage paint a new picture of the incident. With limited resources, you must improvise to survive on your own.
Discover Unexplored Biomes - Swim under the blue arches of the Twisted Bridges. Be mesmerized by the giant glittering crystals of the Crystal Caves. Climb snow-capped peaks and venture into the frozen caverns of the Glacial Basin. Maneuver between erupting thermal vents to uncover ancient alien artifacts. Below Zero features all-new environments for you to survive, study and explore.
Build Habitats and Vehicles - Survive the harsh climate by building sprawling habitats, scavenging resources, and crafting gear. Ride the snow-covered tundra on a Snowfox hovercraft. Travel through enchanting and dangerous biomes in your modular Seatruck.
Research Alien Life Forms - There's something unknown lurking behind every stone. Swim through the gigantic Holefish Titan, meet the scary Dark Leviathan and visit the adorable Pinglins. But keep your eyes open. Not all creatures in this strange world are friendly.
Survive Freezing Temperatures - Dive in, the water is warm. The subzero temperatures of this Arctic region are a new threat. New weather conditions cover terrestrial habitats. Craft a heated suit, drink piping hot coffee, and stay warm near the Thermal Lilies to avoid freezing.
An Ocean of Intrigue - What really happened to your sister? Who were the aliens that were here before you? Why did they come to this planet? Can the truth serve as comfort for grief? Below Zero expands the story of the Subnautica universe, delving deep into the mystery presented in the original game.
Open Development - The development of Subnautica: Below Zero is open. Get weekly or daily updates, see what the dev team is up to, check out changes in real time, and give your feedback in-game. We want to know what you think and invite you to participate in our work.
About the Developers - Below Zero is being developed by Unknown Worlds, a small studio that traces its origins to the Natural Selection mod for Half Life from 2002. It's the same studio that created the original Subnautica. The team is spread across the world in the US, UK, France, Russia, Austria, Australia, Canada and many more places.
Warning - This game contains flashing lights that may make it unsuitable for people with photosensitive epilepsy or other photosensitive conditions. Player caution is advised.
System Requirements
Minimum
OS:

Windows 7 64-bit

Storage:

15 GB

Processor:

Intel Core i3 4XXX series / AMD Ryzen 3 2.6ghz+

Memory:

8 GB

Graphics:

Intel HD 530 or better

DirectX:

11
Recommended
OS:

Windows 10 64-bit

Storage:

15 GB

Processor:

Intel Core i5 4XXX series/ AMD Ryzen 5 @ 3Ghz +

Memory:

8 GB

Graphics:

Nvidia 1050 Ti / AMD Radeon 570, 4GB VRAM

DirectX:

11
Minimum
OS:

OS X 10.11 El Capitan

Storage:

15 GB

Processor:

Intel Core i5

Memory:

8 GB

Graphics:

Intel Iris Pro 650 or better
Recommended
OS:

OS X 10.13 High Sierra

Storage:

15 GB

Processor:

Intel Core i7, 4 cores

Memory:

8 GB

Graphics:

AMD Radeon R9 M395 or better