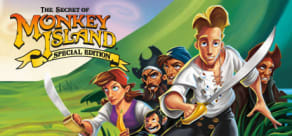 The Secret of Monkey Island: Special Edition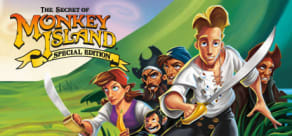 The Secret of Monkey Island: Special Edition
About the game
The Secret of Monkey Island - Special Edition faithfully reimagines the classic, internationally-adored game (originally released in 1990) for both the old and the new generation of fans. The development team at LucasArts is bringing the game to the modern era with completely new and reimagined artistic style, remastered soundtrack, complete dubbing, and a complete system of tips to help players solve the mysteries of the game. Purists will also be pleased to be able to switch seamlessly between the updated and reimagined version of the hand-drawn drawings, and the original classic version.
The full plot twists guide our naive hero in a hilarious and fun quest for the secrets of the fabulous Monkey Island. Tales of riches of pirates lure him to the port of Mêlée with much hope, no money and insatiable curiosity. If he is smart enough, he will win the confidence of the Mêlée pirates and find himself being swept away by the winds of fate into the frightening and legendary Monkey Island - an adventure that would make the bloodthirsty of the buccaneers tremble with fear.
Highlights
Relive the entertaining misadventures of the pirate-wanting pirate Guybrush Threepwood;
Go for a daring adventure in an attempt to become the most infamous pirate in the Caribbean;
Win the heart of beautiful Governor Elaine Marley;
On the way, face evil ghost pirate LeChuck;
Completely new and reimagined artistic style, handmade to allow animation quality;
Remastered soundtrack presented in full detail;
Full Dubbing using the original actors from Monkey Island ™ brings the story and characters from the original adventure to life like never before;
Quick game mode switching between classic and special anytime and anywhere;
Intuitive and completely new game interface, plus controls that allow for a more interactive experience;
In-game tips system makes challenges stay new and fun.
System Requirements
Minimum
OS:

Windows XP® or Windows Vista®

Storage:

2.5GB free hard drive space

Processor:

Intel Pentium 4 3GHz or AMD Athlon 64 3000+

Memory:

256 MB RAM, 512 MB for Vista

Graphics:

128 MB with Shader Model 2.0 capability

DirectX:

9.0c