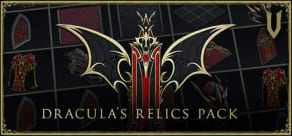 V Rising - Dracula's Relics Pack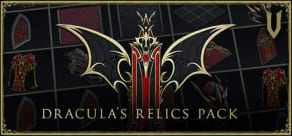 V Rising - Dracula's Relics Pack
About the game
Embrace your dark legacy and project your intentions of supremacy with the Dracula's Relics pack.
Strikeout into Vardoran in iconic black, red, and gold. Don the Immortal King's Mantle and mark yourself a commander of death with the Immortal King's Greathelm as your battle crown. Whether on the battlefield or resting atop your extravagant throne, these colors represent a vampire with an ambition worthy of the next Dracula.
Return home to a castle worthy of the scourge of Vardoran. From throne to coffin, walls to floors, carpet runs to brilliant braziers, your castle will project regality. The royal decor will project an unmistakable air of dominance, elegance, and taste.

The Dracula's Relics Pack contains:
The Immortal King's Drape, Cloak, and Mantle.
The Immortal King's Greathelm.
The Royal Coffin
The Royal Throne
The Royal Pattern stone floors
The Royal Gate castle doors
Interior Royal Walls wallpaper
Interior Royal Walls Pillar wallpaper
Exterior Royal Walls wallpaper
Exterior Royal Walls Pillar wallpaper
Glass Window: Royal Red & Black
Glass Window: Royal Black & Red
Royal Carpets
Royal Braziers with Orange, Blue, Green, Red, White, Yellow, and Purple flames.

While you have this DLC, all items unlock and become available in-game to be crafted as you become worthy of crafting equivalent equipment.
System Requirements
Minimum
OS:

Windows 10 - 64-Bit

Storage:

7 GB

Processor:

Intel Core i5-6600 3.3 GHz / AMD Ryzen 5 1500X 3.5 GHz

Memory:

12 GB RAM

Graphics:

NVIDIA GeForce GTX 750 Ti 2 GB / AMD Radeon R7 360 2 GB
Recommended
OS:

Windows 10 - 64-Bit

Storage:

7 GB

Processor:

Intel Core i5-11600K 3.9 GHz / AMD Ryzen 5 5600X 3.7 GHz

Memory:

12 GB RAM

Graphics:

NVIDIA GeForce GTX 1070 8 GB / AMD Radeon RX 590 8 GB