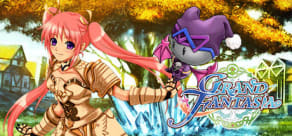 Grand Fantasia
Available Countries
Antigua & Barbuda
Argentina
Bahamas
Barbados
Belize
Bermuda
Bolivia
Brazil
Chile
Colombia
Costa Rica
Cuba
Dominica
Dominican Republic
Ecuador
El Salvador
Falkland Islands
French Guiana
Grenada
Guatemala
Guyana
Haiti
Honduras
Jamaica
Mexico
Nicaragua
Panama
Paraguay
Peru
Puerto Rico
South Georgia & South Sandwich Islands
St. Kitts & Nevis
St. Lucia
St. Vincent & Grenadines
Suriname
Uruguay
Venezuela
About the game
Set in an expansive and carefully crafted fantasy world, Grand Fantasia offers players a variety of innovative and engaging features, including: character and sprite customization, a branching class system, sprite crafting, an incredible menagerie of mounts, player-versus-player (PvP) combat, team-based battlefields, challenging dungeons, epic region and world bosses, a player statue feature, in-game bulletin boards, auction houses, a player romance system, robust guild management and communication tools, and a host of quests (solo, party, and guild) that will entertain gamers of all play styles.
Grand Fantasia is a free-to-play massively multiplayer online role-playing game (MMORPG) developed by X-Legend Entertainment and published by Aeria Games.
Highlights
Explore the Magical World of Saphael: Level up your character as you progress through the various quests in each region. Gather some friends and attempt to conquer some of the challenging instanced dungeons.
Branching Class Trees: Begin your adventure as a Novice and quickly gain the option of branching into one of the four adventuring classes. Select specialization classes at level 5, 15, 30, and 65 to ultimately choose from a total of 8 character classes. Further customization is available through the Alternate Advancement System!
Customizable Sprite Companion: Create your very own sprite to travel with you. This companion can harvest raw materials for you and even craft weapons and armor!
Player Mounts: Famous heroes don't walk; they ride in style. Choose from numerous mounts, each with unique requirements so characters of all types can get their own sweet rides.
Auction House: Located in all of the major cities, Auction Houses serve as central hubs for selling items. Sellers post items for sale, and don't have to be tied down while doing so. Buyers have a central place to look and don't need to scour player merchant stalls.
Exciting PvP Combat: Participate in one-on-one duels or test your might in the 15 vs. 15 Battlefield.
Guild System: Manage your guild with customizable ranks, special quests, and even guild skills as your group of allies grows in size and prestige.
System Requirements
Minimum
OS:

Windows Vista/ 7 / 8 / 8.1 /10

Storage:

4 GB

Processor:

Intel Pentium 4 2.6 GHz

Memory:

2 GB

Graphics:

nVidia GeForce FX 5200 / ATI Radeon 9550

DirectX:

9.0c
Recommended
OS:

Windows Vista/ 7 / 8 / 8.1 /10

Storage:

4 GB

Processor:

Intel Pentium 4 3.0 GHz

Memory:

6 GB

Graphics:

nVidia GeForce FX 5700 +

DirectX:

9.0c