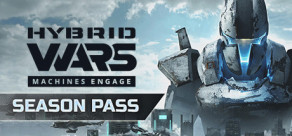 Hybrid Wars - Season Pass
Available Countries
Antigua & Barbuda
Argentina
Bahamas
Barbados
Belize
Bermuda
Bolivia
Brazil
Chile
Colombia
Costa Rica
Cuba
Dominica
Dominican Republic
Ecuador
El Salvador
Falkland Islands
French Guiana
Grenada
Guatemala
Guyana
Haiti
Honduras
Jamaica
Mexico
Nicaragua
Panama
Paraguay
Peru
Puerto Rico
South Georgia & South Sandwich Islands
St. Kitts & Nevis
St. Lucia
St. Vincent & Grenadines
Suriname
Trinidad & Tobago
Uruguay
Venezuela
About the game
Get two new characters for Hybrid Wars, a self-taught genius hacker Yana Radovich and a high-level specialist in tech-espionage Yoko Takano, the moment they're released. With the Season Pass, you'll be able to test their might, discovering their unique abilities and finding a different way to conquer the battlefield. Team up with your friends or challenge them in various coop modes to create new deadly combinations.
Highlights
DLC 1 - Get the most out of your Hybrid Wars gaming experience with a new, exclusive character: Yana "Tesla" Radovich, a self-taught genius and one of the best hackers out there. She isn't afraid to get her hands dirty and makes up for the skills she lacks with enthusiasm and unorthodox thinking. Leverage your strengths and unique arsenal to get the upper hand on the Hybrid Wars battlefields!
DLC 2 - Get a fresh take on the futuristic top-down mech shooter with an all-new character: Yoko Takano. Born to protect and serve, Yoko is ready to become the spearhead of a revolution in private military services, simultaneously creating profits for investors and experimenting with new combat concepts. Put her to the test in-game and find new ways to wreak havoc on robot-kind!
System Requirements
Minimum
OS:

Windows 7/8/8.1/10

Storage:

12 GB

Processor:

Core i3 3.2GHz

Memory:

4 GB

Graphics:

nVidia GTX 275 / AMD Radeon HD-7770

DirectX:

9.0
Recommended
OS:

Windows 7/8/8.1/10

Storage:

12 GB

Processor:

Core i7

Memory:

8 GB

Graphics:

nVidia GTX 770

DirectX:

9.0
Minimum
OS:

Mac 10.6 - 10.11 (Snow Leopard - El Capitan)

Storage:

12 GB

Processor:

Core i3 3.2GHz

Memory:

4 GB

Graphics:

nVidia GTX 275 / AMD Radeon HD-7770
Recommended
OS:

Mac 10.6 - 10.11 (Snow Leopard - El Capitan)

Storage:

12 GB

Processor:

Core i7

Memory:

8 GB

Graphics:

nVidia GTX 770
Minimum
OS:

Ubuntu 14.04 64-bit

Storage:

12 GB

Processor:

Core i3 3.2GHz

Memory:

6 GB

Graphics:

nVidia GTX 275 / AMD Radeon HD-7770
Recommended
OS:

Ubuntu 14.04 64-bit

Storage:

12 GB

Processor:

Core i7

Memory:

8 GB

Graphics:

nVidia GTX 770