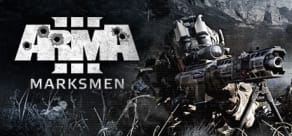 Arma 3 Marksmen
Available Countries
Antigua & Barbuda
Argentina
Bahamas
Barbados
Belize
Bermuda
Bolivia
Brazil
Chile
Colombia
Costa Rica
Cuba
Dominica
Dominican Republic
Ecuador
El Salvador
Falkland Islands
French Guiana
Grenada
Guatemala
Guyana
Haiti
Honduras
Jamaica
Mexico
Nicaragua
Panama
Paraguay
Peru
Puerto Rico
South Georgia & South Sandwich Islands
St. Kitts & Nevis
St. Lucia
St. Vincent & Grenadines
Suriname
Uruguay
Venezuela
About the game
Hone your shooting skills and engage in ranged combat with seven new weapons in the Arma 3 Marksmen DLC.
Highlights
Seven New Weapons: Five sniper rifles and two medium machine guns offer new possibilities for team play. New weapons:
Cyrus 9.3 mm: high-powered sniper rifle
MAR-10 .338: high-powered sniper rifle
Mk-I EMR 7.62 mm: medium power sniper rifle
Mk14 7.62 mm: medium power sniper rifle
ASP-1 Kir: Special Purpose Rifle
SPMG .338: medium light machine gun
Navid 9.3 mm: medium machine gun
Sights: The mid-range AMS and Kahlia sights complement both new and old weapons.
Remote Designators: Two remotely controlled laser designators that serve to locate and aim at designated targets from a distance.
Ghillie Outfits: New ghillie outfits for the NATO, CSAT, and AAF factions that provide camouflage over a variety of terrain types.
Shooting Drills: Combine movement and medium-range shooting in three new purple courses of fire.
Marksmen Showcase: Use your new ranged shooting skills on a tense scouting mission.
System Requirements
Minimum
OS:

Windows 7 SP1 (64bit)

Processor:

Intel Dual-Core 2.4 GHz ou AMD Dual-Core Athlon 2.5 GHz

Memory:

4 GB

Graphics:

NVIDIA GeForce 9800GT / AMD Radeon HD 5670 / Intel HD Graphics 4000 com 512 MB VRAM

Soundcard:

compatível com DirectX®

DirectX:

10
Recommended
OS:

Windows 7/8/10 (64 bits)

Processor:

Intel Core i5-4460 / AMD FX 4300

Memory:

8 GB

Graphics:

NVIDIA GeForce GTX 660 / AMD Radeon HD 7800 Series with 2 GB VRAM

Soundcard:

compatível com DirectX®

DirectX:

11