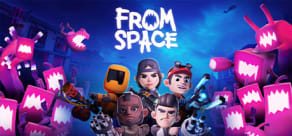 From Space
Available Countries
Argentina
Bahamas
Belize
Bolivia
Brazil
Chile
Colombia
Costa Rica
Dominican Republic
Ecuador
El Salvador
Guatemala
Guyana
Honduras
Jamaica
Mexico
Nicaragua
Panama
Paraguay
Peru
Puerto Rico
Suriname
Trinidad & Tobago
Uruguay
Venezuela
About the game
That's not a gum army! It's an endless horde of menacing pink aliens taking over our planet! Enough chit-chat and get your gear! We need you and your squad to defeat the pink plague! YOUR MISSION: Free Earth from the alien horde!
Highlights
MISSION TIP 1: Gather your team! While it's possible to play From Space alone (if you're brave enough), it's wiser to invite a few friends to help you out. Create a squad of up to four players in online mode. Look, there's a lot of pink plague out there, so the more people the better. Oh, and your teammates can still witness your great deeds and tell everyone how amazing you are. In other words: only advantages!
MISSION TIP 2: Shoot, Blow Up, and Take Down With a huge variety of weapons (rocket launchers, machine guns, flamethrowers and more!), there's no excuse not to annihilate these aliens! Assemble your ideal composition and use tactical items like grenades and mines, or disrupt hordes with barbed wire and turrets. Remember to scour the world for loot: you'll need it!
MISSION TIP 3: You are special, so choose an expert skill! No matter what type of player you are, there are many characters in the From Space roster, and each has unique abilities and weapons. Find the perfect balance with your friends as they try to form the best squad ever.
MISSION TIP 4: Don't just stand and stare. Level up! As you level up, you'll need to attach special talents to your character to help with the task of destroying aliens. You'll need to find ways to face increasingly powerful enemies, and talents will help you achieve your dream of crushing the pink plague. Need to rethink your strategy? No problem! We like innovators! Talents can be exchanged, even between squad members!
MISSION TIP 5: The apocalypse has never been so much fun... so have fun! Let's face it: an alien threat is terrible... terribly fun! Well, the world is already a little lame, so who will notice if there is an explosion there, destruction here, while the planet is saved? That's what insurance is for...
System Requirements
Minimum
OS:

Windows 10

Storage:

3 GB

Processor:

AMD Phenom II X4 965 (4 * 3400) / Intel Core i5-4670K (4 * 3400)

Memory:

8 GB RAM

Graphics:

Radeon R7 260X (2048 MB) / GeForce GTX 660 (2048 MB)
Recommended
OS:

Windows 10

Storage:

3 GB

Processor:

AMD FX-9590 (8 * 4700) / Intel Core i7-6700 (4 * 3400)

Memory:

10 GB RAM

Graphics:

Radeon RX 570 (8192 MB) / GeForce GTX 1050 Ti (4096 MB)