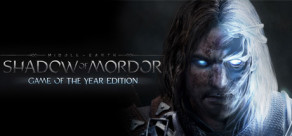 Middle-earth: Shadow of Mordor - Game of the Year Edition
Available Countries
Antigua & Barbuda
Argentina
Bahamas
Barbados
Belize
Bolivia
Brazil
Chile
Colombia
Costa Rica
Dominica
Dominican Republic
Ecuador
El Salvador
French Guiana
Grenada
Guatemala
Guyana
Haiti
Honduras
Jamaica
Mexico
Nicaragua
Panama
Paraguay
Peru
St. Kitts & Nevis
St. Lucia
St. Vincent & Grenadines
Suriname
Uruguay
Venezuela
About the game
Forge your nemesis and find out how close to the greatness you can get to Middle-earth: Shadow of Mordor - Game of the Year Edition. Fight for all Mordor, unravel the mystery behind the spectrum and the origins of the Rings of Power, build your legend and finally face the evil of Sauron in this new chronicle of Middle-earth.
Highlights
An exclusive mission - Guardians of the Flaming Eye Warband: Face the elite of the armies of Sauron before the Black Gate and win the rune of the Wolf Head;
Early access to the Trials of War series of challenges: Play the complete series in 4 challenging modes: Power Test, Speed ​​Test, Wisdom Test and endless challenge. Earn points to increase your power, skill, speed and efficiency and become a legend in the Rankings.
Additional quests that guarantee countless hours of gameplay:
Mission Story - Lord of the Hunt: Dive deep into the world of Mordor and hunt the wild animals to gain original runes.
Mission Story - The Bright Lord: Battle against Sauron in the shoes of Celebrimbor, a great Second Age Elf Lord, and unlock powerful runes and the ability to handle the Ring of Power.
More additional content in the future: including additional Warband, Rune and Skill missions: Upgrade your weapons with powerful runes and customize Talion's look with original skins.
Other content in the GOTY version
History of the Lord of the Hunt
The Bright Lord Story Pack
Power Challenge Mode Test
Speed challenge mode test
Test of the challenge mode of wisdom
Wild Challenge Mode Test
Test the ring challenge mode
Endless challenge mode
Challenge Test
The Dark Ranger Skin
Captain of the watch skin
Lord of the Furskin
The bright skin of the Lord
Power of the Shadow Skin
Lithariel Leather
Hidden Leaf Rune
Deadly Rune of Archers
Anor Rune's Flame
Rising Storm Rune
Orc Slayer Rune
Defiant to the End Rune
Elven Grace Rune
Runa Ascending
One with Rune of Nature
Guardians of the Flaming Eye War Mission
The mission of the band of Berserks
The mission of the Crushers Skull Band
The mission of the Blood Hunters
The mission of the meat burners
Photo Mode
System Requirements
Minimum
OS:

64-bit: Vista SP2, Win 7 SP1, Win 8.1

Storage:

44 GB

Processor:

Intel Core i5-750, 2.67 GHz | AMD Phenom II X4 965, 3.4 GHz

Memory:

3 GB

Graphics:

NVIDIA GeForce GTX 460 | AMD Radeon HD 5850

DirectX:

11
Recommended
OS:

64-bit: Win 7 SP1, Win 8.1

Storage:

57 GB

Processor:

Intel Core i7-3770, 3.4 GHz | AMD FX-8350, 4.0 GHz

Memory:

8 GB

Graphics:

NVIDIA GeForce GTX 660 | AMD Radeon HD 7950

DirectX:

11
Minimum
OS:

Mac OS X 10.10.3

Storage:

67 GB

Processor:

2.4 GHz Intel

Memory:

8 GB

Graphics:

1GB Nvidia 650M or later, AMD 7xxx
Recommended
OS:

Mac OS X 10.10.4

Storage:

67 GB

Processor:

3.2 GHz Intel

Memory:

16 GB

Graphics:

4GB Nvidia 780MX, AMD D700 or R9 295X
Minimum
OS:

Ubuntu 14.04.2 64-bit

Storage:

47 GB

Processor:

Intel Core i5-750, 2.67 GHz | AMD Phenom II X4 965, 3.4 GHz

Memory:

4 GB

Graphics:

1GB NVIDIA 640
Recommended
OS:

Ubuntu 14.04.2 64-bit

Storage:

4GB

Processor:

Intel Core i7-3770, 3.4 GHz | AMD FX-8350, 4.0 GHz

Memory:

8 GB