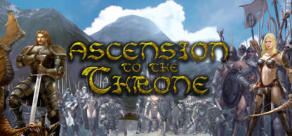 Ascension To The Throne
Available Countries
Antigua & Barbuda
Argentina
Bahamas
Barbados
Belize
Bermuda
Bolivia
Brazil
Chile
Colombia
Costa Rica
Cuba
Dominica
Dominican Republic
Ecuador
El Salvador
Falkland Islands
French Guiana
Grenada
Guatemala
Guyana
Haiti
Honduras
Jamaica
Mexico
Nicaragua
Panama
Paraguay
Peru
Puerto Rico
South Georgia & South Sandwich Islands
St. Kitts & Nevis
St. Lucia
St. Vincent & Grenadines
Suriname
Uruguay
Venezuela
About the game
Ascension To The Throne is a turn-based strategy game built with classic RPG elements.
In a vast fantasy world, the hero will have to pass tests while enemies try to stop players from regaining power and vanquish themselves. Recruit new friends to help you reclaim the throne and then become the wise and courageous King you were born to be.
In the plot players will act as the last descendants of the ancient Illiar family, who ruled the Eden for centuries. But times have changed, and traitorous enemies have attacked the castle and killed the prince's family ... A very powerful spell cast by a wizard threw the hero far beyond the borders of the country. He was alone - no relatives, no friends, no army, no money. After losing everything, he decides to follow the path of revenge.
Players will explore a whole new world, full of enemies and friends. They will have to crush hordes of enemies and find new followers to reclaim the title and rise to the throne.
Highlights
Non-linear game mechanics / open world for exploration;
Combination of real-time movements around the world and turn-based battles;
Tactical battles on a large scale. Up to 22 squadrons (16 units each);
Players are not delimited by separate missions. They can go to any part of the game world and exploit it. The game world is integral and players are free to choose any direction;
Original concept: The hero is the player, and instead of giving orders and watching battles from a safe place, he participates in them alone (but remember, you can easily lose your hero in the heat of a battle).
System Requirements
Minimum
OS:

Windows XP / 7 / 8 / 10

Storage:

2 GB

Processor:

Pentium IV 2.4GHz

Memory:

512 MB

Graphics:

GeForce 6600 +