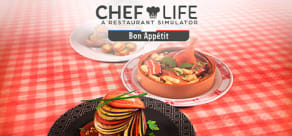 Chef Life: Bon Appetit Pack
About the game
Celebrate French gastronomy in your restaurant!
The BON APPÉTIT package includes:
Contains 3 French gastronomic recipes.
An elegant outfit for your chef.
Add ratatouille, bouillabaisse and cassoulet to your menu.
A new apron and a stylish sailor shirt for your boss.
Highlights
Take control of your dream restaurant - Choose and customize dozens of kitchen items (grills, food processors, ovens, etc.) to build your dream kitchen! Before lighting the fire, organize your employees and manage suppliers to source the best ingredients that would impress even the most demanding customers. Structure your finances and plan your workflow so you don't overwhelm yourself when it's time to serve dinner!
Assemble the menu based on your tastes - Do you prefer boeuf bourguignon or cacio e pepe pasta? Assemble the menu with classic dishes from French, Italian and international cuisines! Do you want to get out of the sameness? Perfect recipes to reach new culinary heights! Adapt the menu to the seasons and customer expectations to gain fame.
Slice, grill, bake, mix and more! - Your kitchen and management skills will be tested in each service. Your team will provide valuable assistance in meeting the demanding demands of customers. Slice, cook and take care of all the preparations, until it's time to use your creativity to assemble the dishes.
From a small restaurant to the Michelin Guide - Build customer loyalty and make the restaurant grow. Learn new recipes and refine your cooking skills. Do you want to become popular in your area, or do you want to break into haute cuisine in order to earn stars in the prestigious Michelin Guide?
System Requirements
Minimum
OS:

Windows 10

Storage:

7 GB

Processor:

Intel Core i3-2100 or AMD FX-4100

Memory:

6 GB

Graphics:

NVIDIA GeForce GTS 450/ 1 GB or AMD Radeon HD 5750/ 1 GB or Intel HD Graphics 630

DirectX:

11
Recommended
OS:

Windows 10

Storage:

7 GB

Processor:

Intel Core i5-2400 or AMD FX-8350

Memory:

6 GB

Graphics:

NVIDIA GeForce GTX 760/ 2 GB or AMD Radeon HD 7870/ 2 GB

DirectX:

11