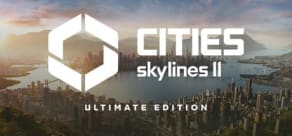 Cities: Skylines II - Ultimate Edition
About the game
Cities: Skylines II: Ultimate Edition includes:
Base game and Expansion Pass.
San Francisco Sept.
Beach Properties Asset Pack (Q4 2023).
Two Content Creator Packs (Q1 2024).
Bridges & Ports Expansion (2nd quarter of 2024).
3 Radio Stations accompanying each launch (4th quarter of 2023, 1st and 2nd quarters of 2024).

THE GAME:
Build a metropolis from scratch in the most realistic city building game ever created. Take creativity and problem-solving to an unprecedented scale. Deep simulation and living economy. Unlimited city building game.
Highlights
San Francisco Set - Bring some sunshine to your city with this San Francisco-inspired set. A Muscle Car Garage, 5 different muscle car models and a police car will beautify your beach town. The set also includes the iconic Golden Gate Bridge and, of course, a map of San Francisco. Exclusive when purchasing the Expansion Pass
Beach Properties Asset Pack - This package has everything you need to bring your shores to life. ""Beach Properties"" includes a vast collection of elements that allow you to build luxurious residential areas on the beach, opening up new customization possibilities for your city.
Content Creator Packs x 2 (Urban Promenades/Modern Architecture) - Bringing more than 30 elements each, these packs will give your city much more personality. Created by two of the Cities: Skylines community's favorite creators, the packs showcase all of our modders' artistic talent:
Bridges & Ports Expansion - Even more lively coastlines are available with this new expansion, Bridges & Ports! With a new set of tools, you can now create a bustling harbor for your city and add beautiful new details like drawbridges and lighthouses. With over 100 new elements, plus the new addition of Marine Industries, you can expand your seascape and connect your city in new and exciting ways.
Radio Stations x 3 (Deluxe Relax Station/Soft Rock Radio/Cold Wave Channel) - Set the tone for your city! Featuring a new host and 60 minutes of music, each Radio Pack will add a new vibe to your city building experience. Radio stations will accompany each launch:
System Requirements
Minimum
OS:

Windows® 10 Home 64 Bit

Processor:

Intel® Core™ i7-4790K / AMD® Ryzen™ 5 1600X

Memory:

8 GB

Graphics:

Nvidia® GeForce™ GTX 780 (3GB) or AMD® Radeon™ RX 470 (4GB)

Soundcard:

TBC
Recommended
OS:

Windows® 10 Home 64 Bit | Windows® 11

Processor:

Intel® Core™ i7-9700K | AMD® Ryzen™ 5 5600X

Memory:

16 GB

Graphics:

Nvidia® GeForce™ RTX 2080 Ti (11GB) | AMD® Radeon™ RX 6800 XT (16GB)

Soundcard:

TBC