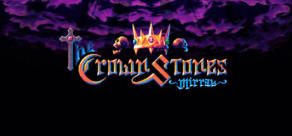 The Crown Stones: Mirrah - DEMO
Available Countries
Antigua & Barbuda
Argentina
Bahamas
Barbados
Belize
Bermuda
Bolivia
Brazil
Chile
Colombia
Costa Rica
Cuba
Dominica
Dominican Republic
Ecuador
El Salvador
Falkland Islands
French Guiana
Grenada
Guatemala
Guyana
Haiti
Honduras
Jamaica
Mexico
Nicaragua
Panama
Paraguay
Peru
Puerto Rico
South Georgia & South Sandwich Islands
St. Kitts & Nevis
St. Lucia
St. Vincent & Grenadines
Suriname
Trinidad & Tobago
Uruguay
Venezuela
About the game
" Someone had to be the sacrifice. For the rescue of that one who got lost. However, something wrong happened, and he lost it all. In a totally dark world... He'll have to fight... For his own life. Here, there's no mercy. Survive? This won't be so easy. "
"The Crown Stones: Mirrah" is a Metroidvania-styled retro game which has great influence from old games like "Castlevania", "Demon's Crest", "Blackthorne", among others retrogames that have always inspired us. However, it has different mechanics as well as some elements from new generation games, like "Dark Souls" for example, game that inspires us a lot by its difficulty and dense atmosphere.
Since its first sketch the game has been thought as an experience inside the extraphysical world, spiritual world for some, world of the dead for others, this way we planned a game which besides of being fun, it also has an immersive story. As great inspiration we have the RPG book "Spiritum o Reino dos Mortos", a brazilian RPG which shows the astral, umbral and spiritual planes; the game is set in the same universe of that book.
Click here to know more about this universe! 
Highlights
Use of karma as the game's currency
Evolution based on the seven chakras. Each activated chakra will unlock new abilities
Wide range of weapons and items to use.
Secret characters and scenarios
Implicit and explicit content besides various mysteries to be unveiled
Progressive horror. The game becomes more obscure with the progress of levels