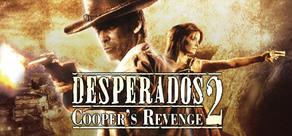 Desperados 2 Cooper's Revenge
About the game
Desperados 2 is the sequel to the highly successful Western title Desperados - Wanted Dead or Alive. The gameplay is based on its predecessor but with new and vast tactical possibilities in a beautiful 3D environment. The player is able to switch from an isometric view to third-person viewing at will, for example for duels, fights and shootings. Great varieties of canyons, ghost towns, indigenous villages and forts create a breathtaking atmosphere.
Take on the role of up to 6 heroes including famed bounty hunter John Cooper and experience an exciting story with unexpected surprises.
Highlights
Real-time strategy and tactics are combined with a vibrant and exciting Western story.
Varied sets of cities, indigenous villages, canyons, forts, wagon trains and ghost towns.
Dual 3D vision: adjustable isometric vision and 3rd person vision for fights and close-up action.
Several levels of difficulty and a new AI with greater tactical behavior of the opponent and more interaction with allies.
6 individual actions per hero and more than 20 new actions with opposing example: swimming, sedative injection and handcuffs.
A new hero: Hawkeyes, the Indian.
5 actions per hero, pre-planned with Core Vision (Quick Actions)
More interaction with the environment with the inner vision of 3D constructions and movements like climbing, disguising, jumping and hiding.
Fight with objects that break creating stunt film situations.
System Requirements
Minimum
OS:

Windows 2000, XP

Storage:

4GB

Processor:

Pentium 4 2.0 GHz / AMD Athlon 1.7 GHz

Memory:

512MB

Graphics:

128MB *