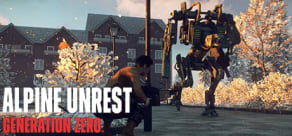 Generation Zero - Alpine Unrest
Available Countries
Antigua & Barbuda
Argentina
Bahamas
Barbados
Belize
Bermuda
Bolivia
Brazil
Chile
Colombia
Costa Rica
Cuba
Dominica
Dominican Republic
Ecuador
El Salvador
Falkland Islands
French Guiana
Grenada
Guatemala
Guyana
Haiti
Honduras
Jamaica
Mexico
Nicaragua
Panama
Paraguay
Peru
Puerto Rico
South Georgia & South Sandwich Islands
St. Kitts & Nevis
St. Lucia
St. Vincent & Grenadines
Suriname
Uruguay
Venezuela
About the game
It's December of 1989, in the desolate forests and hills of the Swedish countryside. A month has passed since the population vanished overnight, and you have spent this time exploring the grim open world alone and with friends, sticking to the shadows to scavenge for equipment and weapons in your attempt to stay alive. All the while, you've identified the mastermind behind the events leading up to the attack and it has now led you to Himfjäll. This unexplored island off the east coast might hold more answers, and perhaps something even more valuable - other survivors.
Highlights
HIMFJÄLL ISLAND - Dusted from coast to coast in snow, this formerly popular ski resort now stands abandoned to the winds and the enemies roaming the area. There is much to discover though, from the cafés and shops of the small towns that pepper Himfjäll, to the ski slopes, trailer park campsites and thick pine forests that cover the island. Additionally, Björntunet stands as a key landmark, this once pleasant ski hotel now being used as a hideout. As long as you stay aware of your surroundings, who knows what you might uncover.
YOU'RE NOT ALONE - Himfjäll might be unexplored and highly dangerous, but there are also clear signs that more information about the machines and the whole situation can be found there. But above simple answers, you have found something infinitely better - a group of survivors who have through the skin of their teeth managed to survive against the machines. These are the first people you have come face to face with since that fateful day, and with each other's help you might yet survive this invasion.
MORE ACHIEVEMENTS & COLLECTIBLES - The new area is covered in collectibles for you to find, from lost dictaphone journal entries to character biographies. Additionally, there are a whole new batch of achievements for you to try and complete.
APOCALYPSE CLASS MACHINES - If you are not vigilant when making your way across the new island, you will sooner or later cross paths with what appears to be a new tier of machines. They bear clear resemblance to their lighter-armed counterparts, but are deadlier on a level previously unseen. Specifically designed by FNIX to hunt down any survivors and overpower any human that would try to fight back, the machines wield weapons so vile, they would be banned under the Geneva convention. From Hunters wielding flamethrowers to runners equipped with biochemical machine guns, you'll need to rethink and rework your tactics to take these new enemies down. Be warned that Östertörn might no longer safe either, as these Apocalypse Class machines may have found their way to the mainland.
EXPANDED ARSENAL - Your quest for survival will require extensive exploration, and if luck is on your side, you might even stumble upon some new weapons for your arsenal. The KVM 89 Squad Automatic Weapon and KVM 59 Machine Gun can be found while searching around the island, so keep your eyes peeled. With the movement of the Apocalypse Class machines, there is also a potential chance of finding them on Östertörn as well.
System Requirements
Minimum
OS:

Windows 7 - 64-bit

Storage:

35 GB

Processor:

Intel Core i5

Memory:

8 GB RAM

Graphics:

NVIDIA GTX 660 / ATI HD7870 - 2GB VRAM
Recommended
OS:

Windows 10 - 64-Bit

Storage:

35 GB

Processor:

Intel Core i7

Memory:

16 GB RAM

Graphics:

NVIDIA GTX 960 / R9 280 - 4GB VRAM