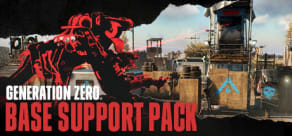 Generation Zero - Base Support Pack
Available Countries
Antigua & Barbuda
Argentina
Bahamas
Barbados
Belize
Bermuda
Bolivia
Brazil
Chile
Colombia
Costa Rica
Cuba
Dominica
Dominican Republic
Ecuador
El Salvador
Falkland Islands
French Guiana
Grenada
Guatemala
Guyana
Haiti
Honduras
Jamaica
Mexico
Nicaragua
Panama
Paraguay
Peru
Puerto Rico
South Georgia & South Sandwich Islands
St. Kitts & Nevis
St. Lucia
St. Vincent & Grenadines
Suriname
Uruguay
Venezuela
About the game
As you continue to successfully fend off countless machine attacks, the Resistance has once again been inspired to create new structures and decorations to upgrade your base with. Whether you decide to fortify your base or simply add a personal touch to it is up to you, but with this pack, you should be ready to face anything.
Highlights
• Resistance Sniper Tower - A protected tower housing a Resistance sharpshooter with a high-powered sniper rifle. The sharpshooter will use precision fire to pick off any hostile units that come into their field of view.

• Medical Trailer - A makeshift medical station that heals anybody nearby. Stock it with healing consumables before a fight to allow it to function as the perfect one-stop healing spot in the heat of battle.

• Classic Jukebox - Not only does it play various tunes to keep you motivated during the fight, but you can also use it as a lure to get enemy machines off you and other vital targets within the base.

• Security Fences - Keep your enemies away from you without sacrificing your ability to see and shoot them! These chain-link fences are weaker than a regular defensive wall, and they won't protect you from bullets, but they are effective at stopping enemies in their tracks.

• FNIX War Trophies (decorative) - Cherish past victories with these mounted trophies of fallen enemies. Comes in Tick, Runner, Hunter, and Tank variations.

• Portable Spotlight (decorative) - A portable spotlight that you can position to light up strategic spots around their base, covering a 130-degree area.

• Old Outhouse (decorative) - Everybody needs to go sometime, even in the thick of battle, so why not come prepared with an outhouse.
System Requirements
Minimum
OS:

Windows 7 - 64-bit

Storage:

25 GB

Processor:

Intel Core i5

Memory:

8 GB RAM

Graphics:

NVIDIA GTX 660 / ATI HD7870 - 2GB VRAM
Recommended
OS:

Windows 10 - 64-Bit

Storage:

25 GB

Processor:

Intel Core i7

Graphics:

NVIDIA GTX 960 / R9 280 - 4GB VRAM