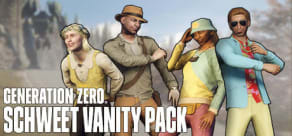 Generation Zero - Schweet Vanity Pack
Available Countries
Antigua & Barbuda
Argentina
Bahamas
Barbados
Belize
Bermuda
Bolivia
Brazil
Chile
Colombia
Costa Rica
Cuba
Dominica
Dominican Republic
Ecuador
El Salvador
Falkland Islands
French Guiana
Grenada
Guatemala
Guyana
Haiti
Honduras
Jamaica
Mexico
Nicaragua
Panama
Paraguay
Peru
Puerto Rico
South Georgia & South Sandwich Islands
St. Kitts & Nevis
St. Lucia
St. Vincent & Grenadines
Suriname
Uruguay
Venezuela
About the game
The summer warmth has finally reached Sweden, and it's time to celebrate Midsummer with some schweet new outfits from the 1980s. Mix between the various articles from four stylish new sets, each with a unique combination of accessories, clothing and hairstyles. Express your excitement with 5 stellar new emotes, and start dancing around the maypole.
Highlights
Adventurer Set - The Adventurer Set is the perfect outfit to tread through snow and sand alike. Looking like something straight out of a movie with your fedora, necktie, whip and an extra length of rope, you are ready to take on whatever the wilderness throws at you. While there thankfully aren't any snake pits to fall into, hostile machines are definitely a'plenty.
Miami Set - Fighting machines has never looked cooler with the Miami Set. Beaches and bag guys have been replaced with forests and bullets, but the attire is still as snazzy as ever. With those sunglasses, brightly patterned shirts and tailored suits, your targets don't stand a chance.
Midsummer Set - Summer in Sweden means midsummer celebrations, and midsummer celebrations aren't complete without authentic Swedish folk attire and jumping around a maypole like a frog. So put on your floral hair wreath, tie your pants off at the knees and grab a dance partner. Just because the countryside is overrun with deadly machines doesn't mean you can't celebrate the arrival of summer in true midsummer style.
Tourist Set - Flash goes the camera as you manage to capture a perfect moment in time. So what if it's rockets being shot your way by a Tank? This is your vacation and you are definitely going to make the most of it, fanny pack and all. Let the missing local population know you're visiting with this flashy Tourist Set, and make sure to put on socks with those sandals, for the woods of Sweden await your exploration and your loud charm.
Five New Emotes - Dance in the summer with style with these 5 choice emotes. Jump around the maypole with the Midsummer Dance, or just rock out to old 80s tunes with the Hustle and the Prep. Or simply get into your groove by jamming on your air guitar. The choice is yours.
System Requirements
Minimum
OS:

Windows 7 - 64-bit

Storage:

35 GB

Processor:

Intel Core i5

Memory:

8 GB RAM

Graphics:

NVIDIA GTX 660 / ATI HD7870 - 2GB VRAM
Recommended
OS:

Windows 10 - 64-Bit

Storage:

35 GB

Processor:

Intel Core i7

Memory:

16 GB RAM

Graphics:

NVIDIA GTX 960 / R9 280 - 4GB VRAM