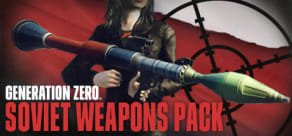 Generation Zero - Soviet Weapons Pack
Available Countries
Antigua & Barbuda
Argentina
Bahamas
Barbados
Belize
Bermuda
Bolivia
Brazil
Chile
Colombia
Costa Rica
Cuba
Dominica
Dominican Republic
Ecuador
El Salvador
Falkland Islands
French Guiana
Grenada
Guatemala
Guyana
Haiti
Honduras
Jamaica
Mexico
Nicaragua
Panama
Paraguay
Peru
Puerto Rico
South Georgia & South Sandwich Islands
St. Kitts & Nevis
St. Lucia
St. Vincent & Grenadines
Suriname
Uruguay
Venezuela
About the game
The Östertörn survivors are no longer the only ones fighting the war against FNIX. Soviet soldiers in small and specialized forces have been seen in the northern regions using moveable defenses to set up temporary camps. They seem to be fighting the machines, but does that make them allies, or do they have their own motives for entering Swedish territory?

The budding Resistance in Östertörn has come across several dead Soviet soldiers, armed with specialized USSR weapons that can be of great use to the Resistance as they learn to use them in the fight against FNIX.
Highlights
Mid-tier versions of these three Soviet weapon models will be available in any PLUNDRA storage box in Östertörn. If you're new to the game, you will find them in the storage box at the Iboholmen Church. For the higher-tiered versions, you will have to take the fight to the machines and loot the weapons from their wreckage. These weapons are:

• Kotenok Sniper Rifle - This iconic semi-automatic designated marksman rifle is one of the most common weapons in the USSR. Deployed in a similar way as a machine gun, it can suppress an area with accurate gunfire, keeping your enemies at bay.

• AT-WAD Assault Rifle - Used by special forces such as the Spetsnaz, this silenced automatic rifle features an integrated suppressor, allowing you to shoot more shots before potentially being discovered by your enemy.

• RLG-7 (Rocket Launcher) - One of the most recognizable and widespread rocket-propelled grenade systems ever produced, the RGP-7 is as Soviet as they come. Utilized to fight armoured and fortified positions in almost every conflict since its creation, it should be perfect for taking down robots as well.
Weapon attachments included:
• 2.7x RLG-7 Scope
• Kotenok Extended Magazine
• AT-WAD Extended Magazine
• LG-7V High-Explosive Round (ammo for the RLG-7)
• 9x39mm Full Metal Jacket Ammo
• 9x39mm Armor-Piercing Ammo
System Requirements
Minimum
OS:

Windows 7 - 64-bit

Storage:

25 GB

Processor:

Intel Core i5

Memory:

8 GB RAM

Graphics:

NVIDIA GTX 660 / ATI HD7870 - 2GB VRAM
Recommended
OS:

Windows 10 - 64-Bit

Storage:

25 GB

Processor:

Intel Core i7

Memory:

16 GB RAM

Graphics:

NVIDIA GTX 960 / R9 280 - 4GB VRAM