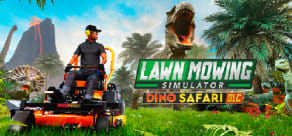 Lawn Mowing Simulator: Dino Safari
Available Countries
Argentina
Bolivia
Brazil
Chile
Colombia
Ecuador
Falkland Islands
French Guiana
Guyana
Paraguay
Peru
Suriname
Uruguay
Venezuela
About the game
Dino Safari first opened its doors in 1994 to capitalise on the mainstream obsession with all things prehistoric, and is proudly still going strong today. This beloved local location is one of the area's premier tourist attractions, transporting kids and adults alike into a bygone time around its proud central volcano. There are four main zones containing eight dinosaurs whose grounds need maintaining… if you're brave enough!
Highlights
T-Rex Paddock - The notorious Tyrannosaurus Rex is the favourite dinosaur of many, and you can follow its footprints into the T-Rex Paddock. Carefully trim around these prints to keep them visible and pristine for Dino Safari's guests!
Cretaceous Canyon - The Cretaceous Canyon is called home not only to more unique archaic creatures but also the park's Cretaceous Café, where all ages can enjoy a bite to eat. Unfortunately, some of the guests' manners could also be described as archaic – so you'll have to make sure to keep the area in tip-top shape with both cutting and litter contracts.
Herbivore Valley - Herds of gentle giants 'roam' through Herbivore Valley - and Dino Safari's guests often enjoy a shaded seat under a Brachiosaurus, or a picnic with a Parasaurolophus. Dino Safari's youngest patrons can also use Herbivore Valley's play area, so it's vital that this zone remains as clean and tidy as possible.
Raptor Enclosure - Follow the winding trail through thick bushes to the Raptor Enclosure; possibly the most dangerous of all Dino Safari zones. Make sure that even the most petrified of guests stop for a second to admire the pristine surroundings before continuing their escape from the resident Velociraptors.
System Requirements
Minimum
OS:

Windows 10 64-bit

Storage:

20 GB

Processor:

Intel Core i7-7700HQ / AMD FX-9590

Memory:

8 GB

Graphics:

NVIDIA GeForce GTX 1050Ti / AMD Radeon R9 390X

DirectX:

11
Recommended
OS:

Windows 10 64-bit

Storage:

20 GB

Processor:

Intel Core i7-6950X / AMD Ryzen 7 1700X

Memory:

8 GB

Graphics:

NVIDIA GeForce RTX 2060 SUPER / AMD Radeon RX 5700 XT

DirectX:

12