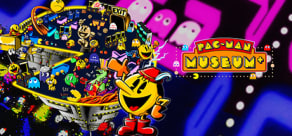 Pac-Man Museum+
Available Countries
Antigua & Barbuda
Argentina
Bahamas
Barbados
Belize
Bermuda
Bolivia
Brazil
Chile
Colombia
Costa Rica
Cuba
Dominica
Dominican Republic
Ecuador
El Salvador
Falkland Islands
French Guiana
Grenada
Guatemala
Guyana
Haiti
Honduras
Jamaica
Mexico
Nicaragua
Panama
Paraguay
Peru
Puerto Rico
South Georgia & South Sandwich Islands
St. Kitts & Nevis
St. Lucia
St. Vincent & Grenadines
Suriname
Uruguay
About the game
PAC-MAN MUSEUM+ includes 14 titles from the legendary PAC-MAN series!

Play a variety of classic and nostalgic PAC-MAN games across many genres!
PAC-MAN
SUPER PAC-MAN
PAC & PAL
PAC-LAND
PAC-MANIA
PAC-ATTACK
PAC-IN-TIME
PAC-MAN ARRANGEMENT Arcade Ver.
PAC-MAN ARRANGEMENT CS Ver.
PAC-MAN CHAMPIONSHIP EDITION
PAC Motos
PAC'N ROLL REMIX
PAC-MAN BATTLE ROYALE
PAC-MAN 256
 
Highlights
Includes 14 legendary PAC-MAN titles - Play all 14 legendary titles like the classic PAC-MAN and PAC-LAND, as well as the newly included PAC-IN-TIME and PAC-MAN 256. Whether you love the original PAC-MAN's side-scrolling action or the puzzle genre, this collection has something for everyone!
Play with friends and family - Includes 5 titles that can be played with friends and family in local multiplayer mode! There are even games for two players to take turns, so everyone gets to enjoy PAC-MAN together!
Customize your own arcade - Collect items every time you play, and customize your very own arcade with them!
Bonus content
Purchase it during the release month and receive a set of 5 figures to show off in your virtual arcade.

Figures Included:
PAC-MAN D (Silver)
PAC-MAN D (Gold)
PAC-MAN E (Silver)
IZIKE (Silver)
PAC-MOM (Silver)

*Bonus items redeemable when downloading the game by June 25, 2022.
*Bonus items may be delivered after launch.
*Decorate your arcade with your bonus items after downloading by going to Menu > Customize.
System Requirements
Minimum
OS:

Windows 7

Processor:

Intel Core i3-2125 / AMD FX-4350

Memory:

4 GB

Graphics:

NVIDIA GeForce GTX 550 Ti, 1 GB / AMD Radeon HD 5770, 1 GB
Recommended
OS:

Windows 10

Processor:

Intel Core i5-3470 / AMD Radeon Ryzen 3 1200

Memory:

4 GB

Graphics:

NVIDIA GeForce GTX 650 Ti, 2 GB / AMD Radeon R7 360, 2 GB