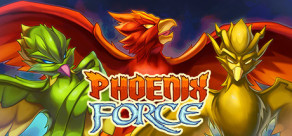 Phoenix Force
Available Countries
Antigua & Barbuda
Argentina
Bahamas
Barbados
Belize
Bermuda
Bolivia
Brazil
Chile
Colombia
Costa Rica
Cuba
Dominica
Dominican Republic
Ecuador
El Salvador
Falkland Islands
French Guiana
Grenada
Guatemala
Guyana
Haiti
Honduras
Jamaica
Mexico
Nicaragua
Panama
Paraguay
Peru
Puerto Rico
South Georgia & South Sandwich Islands
St. Kitts & Nevis
St. Lucia
St. Vincent & Grenadines
Suriname
Trinidad & Tobago
Uruguay
Venezuela
About the game
A dragon, a giant eye and the grim reaper confront you using fireballs, lasers and sickles. What do you do?
A) Say the game is unfair because you die with a single hit and there are no weak enemies and then cry with your mama; or
B) Dodge all this bullet hell and destroy the enemies in 30 seconds because you are a real gamer!
Phoenix Force is a shoot 'em up about a group of phoenixes that fight big and strong mythological creatures in over 100 levels. It takes the boss battle as the foundation for every level, creating engaging and challenging fast battles that will require your best strategies and reflexes.
The game starts a long time ago, when Earth was hit by meteors and everything burned to ashes. The Phoenix of Fire, Fury, was the first to reborn, and found the world full of monsters, the bosses, and rescued the other Phoenixes: Cryo of Ice, Tupã of Thunder, Gaia of Earth and Gast of Ghost. Together they are the Phoenix Force and they have to travel all the continents of our world in a journey to eliminate all the bosses in 100 really challenging battles.
Are you skilled enough to prove yourself the best? This shmup will show you no mercy!
System Requirements
Minimum
OS:

Windows XP

Storage:

300 MB

Processor:

Dual Core 1.3 GHz

Memory:

512 MB

DirectX:

9.0
Recommended
OS:

Windows XP

Storage:

300 MB

Processor:

Dual Core 2.0 GHz

Memory:

1024 MB

DirectX:

9.0